Phantoms Incredibly Strike Three Times in Opening 36 Seconds
December 17, 2014
Lehigh Valley, PA – There are fast starts and then there's what the Lehigh Valley Phantoms did Wednesday evening.
In the 79 seasons of the American Hockey League, no team has ever scored three goals faster than the Lehigh Valley Phantoms did against the Binghamton Senators. The incredible outburst in just a 21-second span came in the opening minute of a contest the Phantoms would eventually win 5-3.
The Phantoms' previous franchise mark for the fastest three goals scored at any point in a game was 31 seconds established back on December 6, 1996 in the very first year of the Philadelphia Phantoms in a game against the Baltimore Bandits.
"Very interesting start," said Phantoms head coach Terry Murray. "That's one of the fastest three goals at the start of the game that I've seen. It was fun."
The Phantoms' offensive explosion began just 15 seconds into the contest when a neutral zone takeaway by Steven Delisle kick started a Phantoms rush into the Binghamton zone. With a burst of speed, Delisle broke in on the right wing before feeding a perfect cross-ice pass to Petr Straka who made no mistake in roofing his seventh goal of the season. Delisle grabbed the only assist on the even strength strike, which was the fastest goal scored by Lehigh Valley to start a game this season.
Lehigh Valley's previous quickest goal to start a game came on November 1st against the Hartford Wolf Pack when Kevin Goumas scored just 28 seconds into the tilt. Straka was six seconds shy of the fastest goal in the history of the franchise which is held by Tye McGinn who scored just nine seconds into a game for the Adirondack Phantoms against the Portland Pirates on March 24, 2013.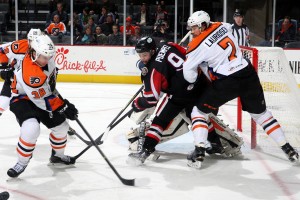 Lehigh Valley was far from finished in its first period onslaught though. The Phantoms doubled their lead just 12 seconds later when Gordon dropped a pass into the slot for Jason Akeson who quickly snapped in his third goal of the season. Brandon Manning earned the second assist on the five-on-five marker that came just 27 seconds into the evening's festivities.
The Phantoms completed their blistering start just nine seconds later when Gordon floated a knuckling puck from the right wing that bounced off the far pad of Senators netminder Andrew Hammond and into the back of the Binghamton cage. Manning and Alt assisted on Gordon's eighth conversion of the season and his fourth tally over the last eight games.
And just like that, it was 3-0 lead for the Phantoms a mere 36 seconds into the contest. What a beginning!
"It's kind of a shock to the system," Andrew Gordon said. "I mean, it didn't feel like the game had even really started yet. My first shift of the game was 10 seconds long and we had two goals. And it didn't feel like we did anything yet. So it's kind of hard to digest. The next few minutes it seemed like we were playing in shock a little bit."
Binghamton turned on the gas from there with a "nothing to lose" attack at the Lehigh Valley net that included 15 shots for the remainder of the period including several close-range opportunities. Without goalie Rob Zepp turning in another fine performance, the Senators might have been able to claw their way back into this one.
"Zepp came up big," Murray said. "He's a veteran player. He knows that kind of a game (from the opponents) is going to probably show up after a quick start like that and he did a very good job in net."
Nick Cousins tacked on a power-play goal early in the second period to begin his first career multi-goal performance. Alex Grant put Binghamton on the board late in the second period on a power-play goal that went off the side so quickly, some thought it might have been a post shot. Referees consulted video-review before officially crediting the goal. Lehigh Valley led 4-1 at the second break.
The Senators would make matters a tad more interesting with another power-play goal early in the third with their top gun, Chris Wideman, cranking it up from the left point. And suddenly the Phantoms lead was down to just 4-2.
Zepp made some more big stops from there and then Nick Cousins next goal with 4:23 remaining would essentially seal matters. Derek Grant closed the margin one more time with his strike with just 21 seconds remaining to provide for the 5-3 final.
But it was the incredible opening of the game that dropped jaws at the beginning of the night which was still dominating the conversation of the PPL Center crowd, and the Phantoms players, even after the game was over.
"Lately we haven't exactly been shooting the lights out," Gordon said, "so to score three goals in just 21 seconds in the opening minute is wild. I probably won't see that again as long as I'm playing the game!"
Lehigh Valley improved their record to 12-10-4 and leapfrogged ahead of Binghamton in the Eastern Conference standings. The Phantoms are now 2-1-0 against the Binghamton Senators with seven more games remaining on the 2014-15 docket including a New Year's Eve tilt back in the Southern Tier of New York.
On home ice, the Phantoms have just two regulation losses in 13 PPL Center appearances with an impressive mark of 8-2-3. The Phantoms had a streak of five consecutive one-goal decisions but that was ended with the 5-3 final score.
The Phantoms are back in action this Friday evening when Lehigh Valley skates in its final home game before the holiday break welcoming the rival Hershey Bears to PPL Center. It's another Free Shirt Friday with a FREE Holiday-themed Phantoms shirt for all fans in attendance. The puck drops on Friday evening at 7:05 PM with tickets available now at the Mealey's Furniture Box Office at PPL Center (701 Hamilton), by calling 610-347-TIXX (8499) or online at pplcenter.com.
Check it out! Phantoms Holiday Plans are on sale now offering tremendous value on four game tickets in a great stocking-stuffer package that includes a Melvin Mini-Stick or special Phantoms beer stein AND a game program. Call the Phantoms to order your Phantoms Holiday Plan at 610-224-GOAL (4625).
For all the Holiday Shopping for the Phantoms fan in your life, check out the team's merchandise and souvenir kiosk now open at the Lehigh Valley Mall through December 31. The Phantoms team store inside PPL Center is also open throughout the week from 11am until 5pm Monday through Saturday.
Binghamton Senators 3 at Lehigh Valley Phantoms 5 – Status: Final
Wednesday, December 17, 2014 – PPL Center
Binghamton 0 1 2 – 3
Lehigh Valley 3 1 1 – 5
1st Period-1, Lehigh Valley, Straka 7 (Delisle), 0:15. 2, Lehigh Valley, Akeson 3 (Gordon, Manning), 0:27. 3, Lehigh Valley, Gordon 8 (Manning, Alt), 0:36. Penalties-Dziurzynski Bng (fighting), 12:49; Lauridsen Lv (fighting), 12:49; Delisle Lv (roughing), 13:28; D. Grant Bng (slashing), 13:54; Powe Lv (hooking), 17:21; Camper Bng (double minor – high-sticking), 18:20.
2nd Period-4, Lehigh Valley, Cousins 5 (Gordon, Hagg), 2:11 (PP). 5, Binghamton, A. Grant 3 (Johnson, Prince), 14:06 (PP). Penalties-Mullen Bng (hooking), 10:25; Flemming Lv (hooking), 13:13; Gordon Lv (hooking), 14:37.
3rd Period-6, Binghamton, Wideman 12 (Mullen, Puempel), 2:33 (PP). 7, Lehigh Valley, Cousins 6 (Hagg, Flemming), 15:37 (PP). 8, Binghamton, D. Grant 10 (Prince, New), 19:39 (PP). Penalties-Hextall Lv (goaltender interference), 0:44; Hextall Lv (high-sticking), 7:52; Dzingel Bng (tripping), 11:10; Kramer Bng (high-sticking), 14:02; Delisle Lv (cross-checking), 17:45.
Shots on Goal-Binghamton 15-12-17-44. Lehigh Valley 6-11-13-30.
Power Play Opportunities-Binghamton 3 / 7; Lehigh Valley 2 / 6.
Goalies-Binghamton, Hammond 6-9-0 (3 shots-0 saves); Greenham 4-2-1 (27 shots-25 saves). Lehigh Valley, Zepp 8-5-1 (44 shots-41 saves).
A-6,665
Referees-T.J. Luxmore (49), Pierre Lambert (39).
Linesmen-Dave Brown (56), Jud Ritter (34).
Upcoming Home Games:
Friday, December 19, 2014, Hershey Bears vs. Lehigh Valley Phantoms, 7:05 PM
(FREE Shirt Friday! FREE Holiday-themed Phantoms shirt for all fans in attendance!)
Saturday, December 27, 2014, Norfolk Admirals vs. Lehigh Valley Phantoms, 7:05 PM
(Post-Game Photographs with Phantoms Players!)
Friday, January 16, 2015, Albany Devils @ Lehigh Valley Phantoms, 7:05 PM
In their 19th season of operation, the Phantoms are currently in the midst of their Inaugural Season as the Lehigh Valley Phantoms playing at the brand-new PPL Center. Established in 1996, the Phantoms spent their first 13 seasons at the Spectrum before re-locating to Glens Falls, New York in 2009 where the team spent the next five seasons as the Adirondack Phantoms. A new era of Phantoms hockey began in the fall of 2014 when the Lehigh Valley Phantoms began play at the state-of-the-art PPL Center. Through 18 incredibly successful campaigns, the Phantoms have captured two Calder Cup Championships (1998, 2005), two Conference Championships (1998, 2005), two Regular Season Titles (1996-97, 1997-98) and four Division Championships (1996-97, 1997-98, 1998-99, 2003-04).