Desnoyers Notches First Multi-Goal Game
February 11, 2023
Lehigh Valley, PA – Elliot Desnoyers (16th, 17th), affectionately known as "The Destroyer," scored twice, and Sam Ersson stonewalled the Bridgeport Islanders with his first American Hockey League shutout to cap a 3-0 victory for the Lehigh Valley Phantoms on Saturday night at PPL Center. Artem Anisimov (13th) put the game to bed with an insurance power-play marker in the final period.
Ersson has previously recorded an NHL shutout on January 9 against the Buffalo Sabres so this one was actually the second in his North American pro career.
Lehigh Valley also equaled a team-record by limiting the Islanders to just 15 shots in the contest. That ties a mark that Lehigh Valley established earlier this season on November 26, 2022 when the Phantoms outshot Rochester 40-15 as part of a 5-1 rout. After the Phantoms surrendered 10 shots on goal in the first period, Bridgeport mustered only five shots over the last 40 minutes.
Among a competitive Atlantic Division, Lehigh Valley (24-17-5) reached a new highwater mark seven games above the .500 plateau via a three-game win streak. The Phantoms have also won four of five and are 8-3-0 in their last 11 games.
A packed house of 7,966 Phans on the corner of 7th and Hamilton Streets enjoyed "Hockey is for Everyone Night," where the organization celebrated the sport's diverse and exclusive spirit.
A scoreless first period ensued with shots even at 10-10 before the Phantoms turned forth one of their most dominant periods of the season. The second period, which saw Lehigh Valley tally twice, accrued a 17-2 shots on goal advantage for the Orange and Black.
The "Destroyer" reeked destruction at 1:45 of the middle stanza with Desnoyers' 16th goal of the campaign. Quick on an offensive transition, Desnoyers curled, dragged and fired a perfect release from the left face-off circle past Isles goaltender Cory Schneider on a snipe to the far post past the glove of the veteran goalie. Cooper Marody and Ronnie Attard both earned assists on the 4-on-4 goal.
Desnoyers struck once more later in the period to cement his first professional multi-goal game. At 11:35, Desnoyers was the beneficiary of a pinballing puck that ricocheted into his wheelhouse after a cross-ice pass from Tyson Foerster. Desnoyers' two-goal performance ties him with Foerster's team-leading 17 tallies.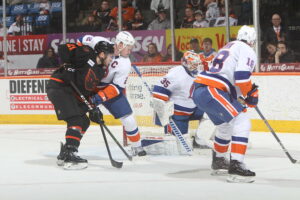 In the third period, Artem Anisimov provided the dagger, and Bobby Brink added another assist to his apple orchard. On the power play following a Bridgeport bench minor for too many men, Anisimov tapped home a loose puck sitting on the backdoor following a feed from Brink at the left wing. Brink extends his point streak to five games (2g, 6a) and has produced helpers in each of his last four games while racking up five assists in just the last three.
Protecting a comfy 3-0 lead in the final period, Lehigh Valley's attention soon turned to preserving Sam Ersson's shutout bid. Active sticks disrupting passing lanes and players, such as Adam Karashik sacrificing his body to block shots, helped pave the way to Ersson's 15-save clean sheet.
"I mean, Kary [Karashik], I don't know how many shots he blocked. He probably saved more goals than me tonight," said Ersson following his first AHL shutout.
The Lehigh Valley Phantoms will next turn their attention to the Charlotte Checkers, who currently sit 3rd in the Atlantic Division. The Orange and Black pull into a fourth-place tie with the Springfield Thunderbirds after a successful weekend sweep against Hartford and Bridgeport.
Ersson's shutout was the first for Lehigh Valley this season and the first since Felix Sandstrom ended the 2021-22 regular season with a 3-0 shutout win against the Wilkes-Barre/Scranton Penguins on April 30, 2022.
While tying a Lehigh Valley team record for fewest shots allowed, the Phantoms fell one shy of the all-time franchise record of 14 shots allowed accomplished twice by the Philadelphia Phantoms in 2013 against the Toronto Marlies and in 1997 against the Hershey Bears.
The first of back-to-back road games against the Charlotte Checkers is slated for Tuesday, February 14 at 7:05 p.m. Lehigh Valley will return to PPL Center on Saturday, February 18 against the Wilkes-Barre/Scranton Penguins. Join us for United Way Housing Heroes presented by PPL with a sock donation drive! The fun starts at 7:05 p.m.
SCORING SUMMARY
2nd 1:45 – LV E. Desnoyers (16) (C. Marody, R. Attard) 1-0
2nd 11:35 – LV E. Desnoyers (17) (K. Bellows, T. Foerster) 2-0
3rd 8:04 – LV A. Anisimov (13) (B. Brink, T. Foerster) (PP) 3-0
Shots:
LV 33 – BRI 15
PP:
LV 1/2, BRI 0/2
Goalies:
LV – S. Ersson (W) (15-10-1) (15/15)
BRI – C. Schneider (L) (13-5-3) (30/33)
Records:
Lehigh Valley (24-17-5)
Bridgeport (19-19-8)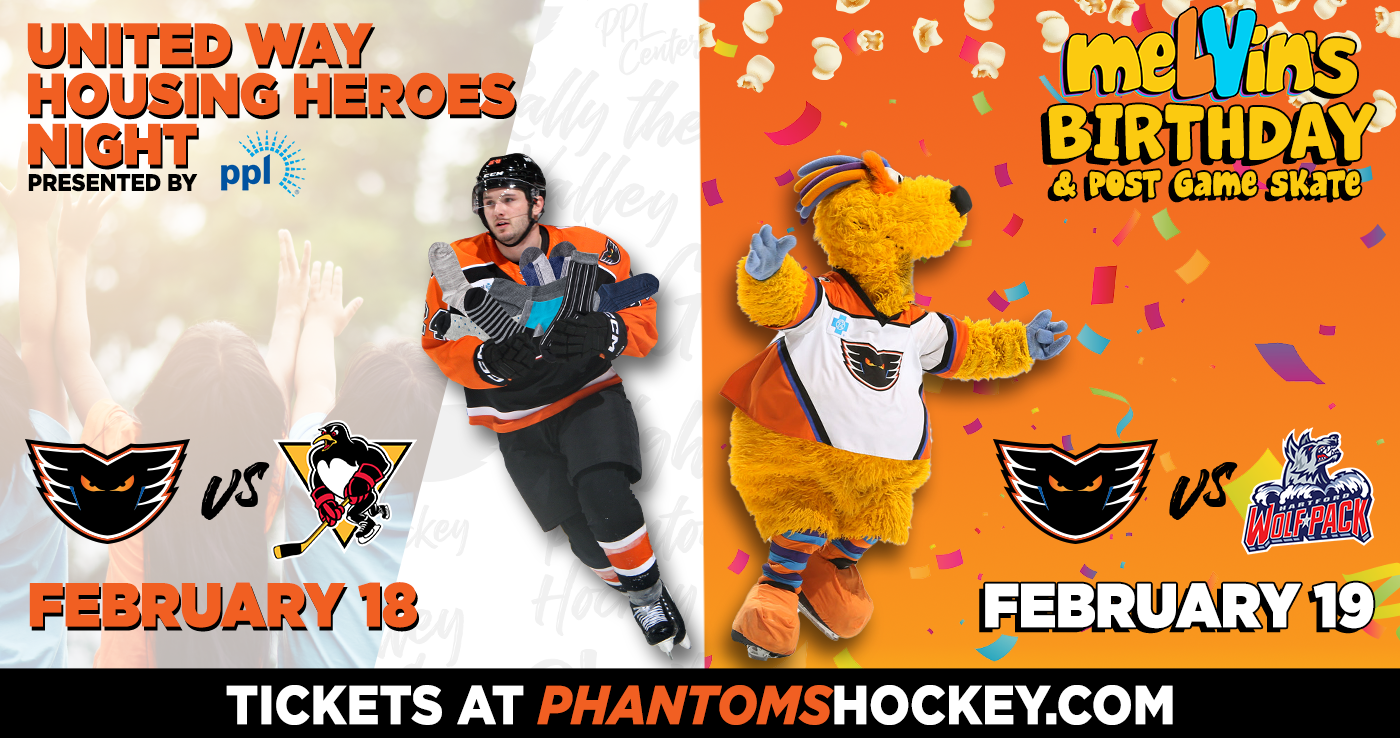 UPCOMING SCHEDULE
Tuesday, February 14 (7:00) at Charlotte Checkers
Wednesday, February 15 (7:00) at Charlotte Checkers
Saturday, February 18 (7:05) vs. WILKES-BARRE/SCRANTON PENGUINS
Sunday, February 19 (5:05) vs. HARTFORD WOLF PACK
UPCOMING PROMOTIONS
Saturday, February 18 (7:05) vs. Wilkes-Barre/Scranton Penguins – United Way Housing Heroes presented by PPL
Sunday, February 19 (5:05) vs. Hartford Wolf Pack – meLVin's Birthday with his Mascot Friends! Postgame Skate with the Phantoms Players
Saturday, March 4 (7:05) vs. Toronto Marlies – Slap Shot Night with Dave Hanson!