Wild third period leads Islanders past Phantoms, 6-4
April 12, 2023
Bridgeport, CT – Elliot Desnoyers cemented his spot in the record books for the Lehigh Valley Phantoms by becoming the club's all-time rookie leading scorer. Desnoyers' 23rd goal of the regular season in the third period bypassed Danick Martel's previous Lehigh Valley club record of 22 goals set in his 2014-15 rookie campaign.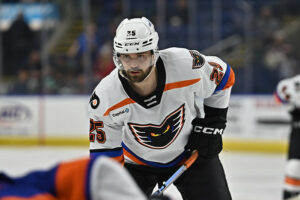 The Bridgeport Islanders spoiled a historic night for Desnoyers by scoring four times in the final frame to top the Phantoms by a 6-4 count on Wednesday night. Ronnie Attard (12), Adam Brooks (10) and Cooper Marody (15) also tallied for Lehigh Valley (37-27-6). The defeat snaps Lehigh Valley's three-game winning streak and marked only their second loss in the last eight games.
Attard's strike came only 44 seconds into the contest and marked the first of an eventual ten goals combined. Cooper Marody feathered a perfect pass across to Attard from the left wing, and Attard beat Bridgeport goaltender Jakub Skarek upstairs along the glove side.
Chris Terry scored a hat-trick against Lehigh Valley and began his big night with an equalizer at 11:04 of the first period. Bridgeport later grabbed a 2-1 advantage in the final minute of the opening period courtesy of Arnaud Durandeau at 19:26.
But in the second period, back came Lehigh Valley with an answer. Garrett Wilson wheeled with the puck beneath the face-off dots, and connected with an open Adam Brooks in the slot. A wicked release from Brooks earned him his 10th goal of the season at 10:06.
Tied at 2-2 going into the third period, a wild final stanza ensued which saw six combined goals. Terry struck for the Isles only 42 seconds back from break, and Andy Andreoff punished his former club less than a minute later to open a sudden 4-2 hole.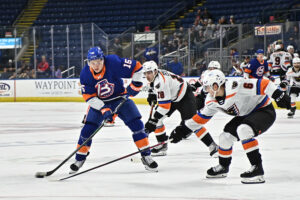 Exactly two minutes after Andreoff's insurance marker, Marody struck to bring the Phantoms within 4-3. Immediately following an offensive zone face-off, more hard work by Wilson near the end wall forced a turnover and a setup in the low-slot for Marody's slam dunk at 3:36.
Bridgeport countered and Chris Terry completed the hat-trick at 7:45 before a historic Lehigh Valley counter punch.
Only 29 seconds after Terry's third, Bobby Brink carried a loose puck towards the net on a partial breakaway. With Skarek aggressively out of position, Desnoyers chipped a loose puck on the second chance effort into an open net at 8:14.
Lehigh Valley saw chances on the power play late, including one last crack at a 6-on-4 man-advantage, but Skarek denied a series of late chances. Andreoff scored into an empty net at 19:41 to complete the 6-4 scoring line.
The Lehigh Valley Phantoms return to action and close the home portion of the 2022-23 regular season on Friday, April 14 at PPL Center. The Phantoms will continue their pursuit for home ice in Round 1 of the 2023 Calder Cup Playoffs with a face-off against the Charlotte Checkers. It's the Regular Season Home Finale featuring Berks $1 Hot Dogs!
SCORING SUMMARY
1st :44 – LV R. Attard (12) (C. Marody, A. Brooks) 1-0
1st 11:04 – BRI C. Terry (24) (K. MacLean, A. Fulp) 1-1
1st 19:26 – BRI A. Durandeau (20) (R. Newkirk, W. Dufour) 1-2
2nd 10:06 – LV A. Brooks (10) (G. Wilson, R. Attard) 2-2
3rd :42 – BRI C. Terry (25) (A. Andreoff, A. Fulp) 2-3
3rd 1:36 – BRI A. Andreoff (35) (D. Cholowski, R. Iskhakov) (PP) 2-4
3rd 3:36 – LV C. Marody (15) (G. Wilson) 3-4
3rd 7:45 – BRI C. Terry (26) (M. Maggio) 3-5
3rd 8:14 – LV E. Desnoyers (23) (B. Brink) 4-5
3rd 19:41 – BRI A. Andreoff (36) (C. Terry) (EN) 4-6
Shots:
LV 37 – BRI 34
PP:
LV 0/4, BRI 1/2
Goalies:
LV – S. Ersson (L) (24-15-1) (28/33)
BRI – J. Skarek (W) (15-15-3) (33/37)
Records:
Lehigh Valley (37-27-6)
Bridgeport (33-29-8)
Phantoms Tickets are available HERE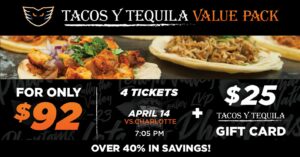 UPCOMING SCHEDULE
Friday, April 14 (7:05) vs. CHARLOTTE CHECKERS
Saturday, April 15 (7:00) at Hershey Bears
UPCOMING AT PPL CENTER
Friday, April 14 (7:05) vs. Charlotte Checkers – Regular Season Home Finale. Berks $1 Hot Dogs
CALDER CUP PLAYOFFS – TBD