Lehigh Valley Phantoms History Made in Front of 9th Sellout at PPL Center
January 17, 2015
Lehigh Valley, PA – History was made Saturday evening as Nick Cousins recorded the first hat trick in Lehigh Valley Phantoms history as part of a convincing 5-1 triumph over the Binghamton Senators in front of 8,907 fans at PPL Center. The historic moment came in front of the second-largest crowd to enjoy a hockey game at PPL Center and the ninth standing room-only sellout in 17 home games this year.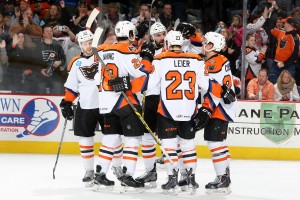 In all, the 21-year-old Cousins compiled four points (three goals, assist) on the evening and now leads all Phantoms in total scoring this season with 28 points. Zack Stortini and Jay Rosehill also found the back of the net for the Phantoms while Andrew Gordon and Brandon Manning each chipped in a pair of assists for Lehigh Valley.
With the win, the Phantoms improved to 19-13-4-1 overall this season and have now won five of their last six games overall as well as five of their last six outings at PPL Center.
"Overall it was the kind of bounce-back game you would talk about with a team," Phantoms head coach Terry Murray said. "You need a good push right away. We did, we came out, we were ready to go. It was a good effort by everyone."
Exactly one month after an historic three goals in 21 seconds in the opening minute of a 5-3 win over the Senators on December 17th, the Phantoms kick started the scoring Saturday evening with their fastest goal scored to open a game this season. Just 14 seconds into the divisional battle, Gordon found an unmarked Cousins in the slot who made no mistake in quickly snapping home his 11th goal of the season. Gordon earned the only assist on the five-on-five conversion, which marked the fourth straight game in which Lehigh Valley has scored first and the 20th time overall that the Phantoms have opened the scoring. Lehigh Valley is now 12-5-2-1 when landing the game's opening goal this season. The even strength strike was scored exactly one second faster than Petr Straka's game-opening conversion that kick started Lehigh Valley's opening-minute, three-goal salvo a month earlier.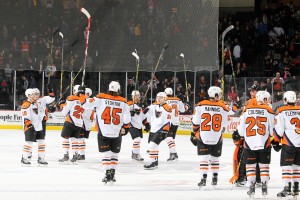 Lehigh Valley doubled its lead with just over four minutes left in the opening stanza when, while on the power play, Brandon Manning unleashed a slap shot from the high slot that was expertly redirected by Stortini atop the goal crease into the back of the Senators cage. Cousins earned the secondary assist on Stortini's sixth goal of the season, which came exactly 15:55 into the first period. The helper gave Cousins his third straight multi-point outing and eighth multi-point effort this season as the Phantoms moved to 14-4 this season when netting at least one power play tally. Lehigh Valley finished the evening 1-for-5 on the man-advantage.
Binghamton made its first and what would prove to be its only dent on the score sheet in the final minute of the opening stanza when the Senators cut the Phantoms lead in half thanks to a well-executed transition rush that resulted in Alex Guptill's fourth goal of the season.
The Phantoms wasted little time stealing momentum right back though early in the second period as Cousins buried his second goal of the game and 12th of the year just 33 ticks into the middle stanza. Gordon and Manning assisted on the even strength conversion, which marked the second multi-goal game for Cousins this season.
Lehigh Valley continued to pour it on offensively as the relentless Phantoms grabbed a three-goal advantage a little over seven minutes into the second period when a spin-around release by Ryan White from the left point was redirected by Rosehill atop the goal crease before squeezing under the Binghamton crossbar. Derek Mathers garnered the secondary assist on Rosehill's third tally of the season.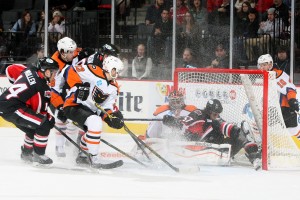 Lost amidst all the offense Saturday evening was the sensational play between the pipes of Martin Ouellette whose biggest moment came less than seven minutes into the final period when he denied a penalty shot by Guptill. In all, the 23-year-old netminder turned aside 28 of Binghamton's 29 total shots in earning his second win of the season with Lehigh Valley.
"I thought he (Ouellette) was good," Murray said. "He was under control, he controlled the puck, he was square to the puck. He really was dialed in, his focus, his concentration. He gave us a big effort."
Cousins capped his hat trick and sent the PPL Center into a frenzy with just over five minutes left in regulation when the second-year sniper broke down the right wing before driving home his 13th goal of the season. Adam Comrie grabbed the only assist on the four-on-four marker, which gave Cousins nine points (five goals, four assists) over his last three games.
The Phantoms return to action this Wednesday, January 21 when Lehigh Valley welcomes the rival Hershey Bears to PPL Center. It's $2 Beer Night with $2 Coors Light drafts from the time doors open until the start of the 2nd period. $2 beers will be available behind Section 108. Please drink responsibly.
Tickets for Wednesday's rivalry showdown are available now at the Mealey's Furniture Box Office at PPL Center (701 Hamilton), by calling 610-347-TIXX (8499) or online at pplcenter.com.
Check it out! Group outings are a fun and affordable way to enjoy all the excitement of Phantoms hockey. For more information on group rates and fan experiences at PPL Center call the Phantoms front office today at 610-224-GOAL (4625)!
Binghamton Senators 1 at Lehigh Valley Phantoms 5 – Status: Final
Saturday, January 17, 2015 – PPL Center
Binghamton 1 0 0 – 1
Lehigh Valley 2 2 1 – 5
1st Period-1, Lehigh Valley, Cousins 11 (Gordon), 0:14. 2, Lehigh Valley, Stortini 6 (Manning, Cousins), 15:55 (PP). 3, Binghamton, Guptill 4 (Mullen, Dzingel), 19:07. Penalties-Bertuzzi Bng (bench minor – too many men), 15:41; Lepine Bng (delay of game), 16:21; Mathers Lv (delay of game), 16:21; Lepine Bng (fighting), 18:24; Mathers Lv (fighting), 18:24.
2nd Period-4, Lehigh Valley, Cousins 12 (Gordon, Manning), 0:33. 5, Lehigh Valley, Rosehill 3 (White, Mathers), 7:13. Penalties-Fyten Lv (hooking), 10:10; Guptill Bng (high-sticking), 12:44; New Bng (hooking), 19:20.
3rd Period-6, Lehigh Valley, Cousins 13 (Comrie), 14:44. Penalties-Straka Lv (hooking), 1:28; Johnson Bng (hooking), 1:37; New Bng (unsportsmanlike conduct), 4:17; Hextall Lv (unsportsmanlike conduct), 4:17; Marshall Bng (high-sticking), 7:54; Mathers Lv (roughing), 10:25; McCormick Bng (fighting), 13:51; Thompson Bng (roughing), 13:51; Lauridsen Lv (fighting), 13:51; Leier Lv (slashing), 13:51; Guptill Bng (fighting), 15:55; Goumas Lv (fighting), 15:55; New Bng (fighting), 18:48; Hextall Lv (fighting), 18:48; Rosehill Lv (roughing, misconduct – continuing altercation), 19:28.
Shots on Goal-Binghamton 12-8-9-29. Lehigh Valley 17-12-8-37.
Power Play Opportunities-Binghamton 0 / 4; Lehigh Valley 1 / 5.
Goalies-Binghamton, Hammond 7-12-0 (37 shots-32 saves). Lehigh Valley, Ouellette 2-1-0 (29 shots-28 saves).
A-8,907
Referees-Alex Garon (64).
Linesmen-Dave Brown (56), Bill Lyons (27).
Upcoming Home Games:
Wednesday, January 21, 2015 Hershey Bears vs. Lehigh Valley Phantoms, 7:05 PM
($2 Beer Night! $2 Beer from the time doors open until the start of the 2nd period. Available behind Section 108. Please drink responsibly.)
Saturday, January 24, 2015 St. John's IceCaps vs. Lehigh Valley Phantoms, 7:05 PM
(Free Shirt Giveaway for all fans in attendance! Specialty Jersey Night! Post-Game Jersey Auction! Inaugural Season Night!)
Thursday, January 29, 2015 Albany Devils vs. Lehigh Valley Phantoms, 7:05 PM
Friday, January 30, 2015 Hershey Bears vs. Lehigh Valley Phantoms, 7:05 PM
(Youth Jersey Giveaway! FREE youth jersey for the first 3,000 kids in attendance (ages 14 and under). meLVin's Birthday Bash!)
In their 19th season of operation, the Phantoms are currently in the midst of their Inaugural Season as the Lehigh Valley Phantoms playing at the brand-new PPL Center. Established in 1996, the Phantoms spent their first 13 seasons at the Spectrum before re-locating to Glens Falls, New York in 2009 where the team spent the next five seasons as the Adirondack Phantoms. A new era of Phantoms hockey began in the fall of 2014 when the Lehigh Valley Phantoms began play at the state-of-the-art PPL Center. Through 18 incredibly successful campaigns, the Phantoms have captured two Calder Cup Championships (1998, 2005), two Conference Championships (1998, 2005), two Regular Season Titles (1996-97, 1997-98) and four Division Championships (1996-97, 1997-98, 1998-99, 2003-04).