3-0 Deficit No Problem at Bridgeport
February 26, 2023
Bridgeport, CT – The Phantoms once again put together a terrific third-period comeback to forge a 4-3 win at the Bridgeport Islanders on Sunday evening. Artem Anisimov (14th) capped the exciting victory with 4:27 left with the game-winning goal after Adam Brooks (6th), Adam Ginning (3rd) and Garrett Wilson (10th) all scored in the last 23 minutes of the game.
With 3:00 remaining in the second period, Lehigh Valley trailed 3-0 but Adam Brooks hustled up to support Max Willman who had been denied on a shorthanded breakaway. Willman chased down the puck in the corner and connected with Brooks speeding into the slot for the key momentum lift before the second intermission which ultimately sparked the comeback.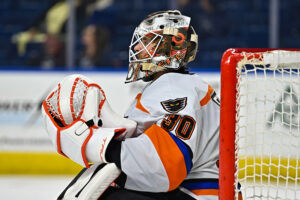 Lehigh Valley (26-21-6) stays in a fourth-place tie with the Springfield Thunderbirds while also distancing itself from several teams chasing after them in the standings.
The Phantoms have made a recent habit of exciting third-period comebacks having overcome a two-goal deficit in the final frame on three occasions in the last five games. This is the first time this season for Lehigh Valley to overcome a deficit of three goals.
Bridgeport (23-21-8) struck thrice in the second period against Sam Ersson to take a 3-0 lead.
Former Phantom Cole Bardreau (12th) deflected a Paul Ladue shot past Ersson for a 1-0 advantage at 6:46 into the second. Then it was rookie William Dufour (19th) snapping home a power-play marker from the left circle shortly after a faceoff win to make it 2-0 at 12:40.
Just 40 seconds later, Ruslan Ishakov snagged a steal that he turned into a breakaway. Garrett Wilson caught up to Ishakov and shoved him from behind for a penalty shot. The talented second-rounder pulled the puck back between his skates and flipped it to the upper-left corner for a spectacular and bold conversion and a 3-0 lead.
Bridgeport was again on the power play in the closing minutes of the second period but that actually turned into a big momentum lift for the Phantoms when Brooks buried the shortie on the feed from Max Willman after the Cory Schneider breakaway denial. It was the team's sixth shorthanded goal of the season and their second at Bridgeport.
The Phantoms used that momentum to keep pushing in the third period and strike three more times for the regulation win.
Adam Ginning carried from the right point over to the top of the left circle to find an opening to shoot through Schneider at 3:08 into the third making the score 3-2 on a goal assisted by Garrett Wilson and Elliot Desnoyers.
The Phantoms tied the game with 10:12 left on Wilson's 10th of the year set up by Kevin Connauton leading the rush after an outlet pass from Hayden Hodgson. Except everyone had to wait and find out if it really was going to be ruled an equalizing goal. The referee on the ice initially waived it off and deemed it no goal. But after all four officials conferenced and then the two referees consulted on video review it was determined that Wilson's tally in which he drove to the net front from the right of the cage was indeed a good goal and the game was tied. There was no announcement about whether the officials initially believed the puck had gone off a skate or if there was any other issue in dispute.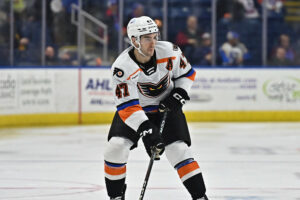 Anisimov was ready for the putback from the left of the cage with 4:33 left for the winning goal assisted by Ronnie Attard and Tyson Foerster. Sam Ersson made some big stops the rest of the way and Louie Belpedio was clutch with at least three big blocked shots in the closing minute after the Islanders had pulled their goaltender for an extra attacker.
Garrett Wilson had a goal and an assist in the game to extend his point streak to five games which is tied for the longest of any Phantoms player this season. Wilson has scored five goals with four assists for nine points in his torrid stretch.
Elliot Desnoyers returned to the Phantoms following his NHL debut the night before with the Flyers at the New Jersey Devils and picked up another point. In the month of February, Desnoyers has scored 5-8-13 in just nine games played.
Sam Ersson has won his last four starts with the Phantoms since February 4 and has allowed just six goals on 96 shots in the streak. Since February 4, Ersson is 4-0-0, 1.50, .939.
Lehigh Valley outshot the Islanders 41-25 and had its second-most shots in a game this season and their most since a 41-shot outburst at the Springfield Thunderbirds on November 20.
The Phantoms conclude their four-game road swing on Friday night at the Syracuse Crunch and then return to PPL Center for home games on Saturday against the Toronto Marlies and Sunday at 4:05 p.m. against the first-place Providence Bruins. Saturday's game is Slap Shot Night featuring Dave Hanson. Sunday's contest is Phantoms Poster Day plus Postgame Autographs with the Phantoms players.
SCORING SUMMARY
2nd 6:46 – BRI C. Bardreau (12) (P. LaDue, R. Salo) 0-1
2nd 12:40 – BRI W. Dufour (19) (D. Cholowski, A. Andreoff) (PP) 0-2
2nd 13:20 – BRI R. Ishakov (13) (PS) 0-3
2nd 17:08 – LV A. Brooks (6) (M. Willman, J. Cates) (SH) 1-3
3rd 3:08 – LV A. Ginning (3) (G. Wilson, E. Desnoyers) 2-3
3rd 9:48 – LV G. Wilson (10) (K. Connauton, H. Hodgson) 3-3
3rd 15:33 – LV A. Anisimov (14) (R. Attard, T. Foerster) 4-3
 Shots:
LV 41 – BRI 25
PP: 
LV 0/4, BRI 1/5
Goalies:
LV – S. Ersson (W) (16-10-1) (22/25)
BRI – C. Schneider (L) 15-6-3) (37/41)
Records:
Lehigh Valley (26-21-6)
Bridgeport (23-21-8)
Phantoms Tickets are available HERE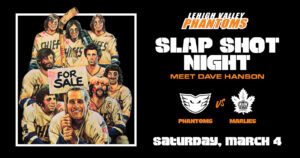 UPCOMING SCHEDULE
Friday, March 3 (7:00) at Syracuse Crunch
Saturday, March 4 (7:05) vs. TORONTO MARLIES
Sunday, March 5 (4:05) vs. PROVIDENCE BRUINS
UPCOMING PROMOTIONS
Saturday, March 4 (7:05) vs. Toronto Marlies – Slap Shot Night with Dave Hanson!
Sunday, March 5 (7:05) vs. Providence Bruins – Team Poster Giveaway and Postgame Autographs
Saturday, March 11 (7:05) vs. Belleville Senators – Hockey Fiesta Weekend
Sunday, March 12 (4:05) vs. Utica Comets – meLVin Youth Jersey Day (first 2,000 kids age 4 and younger) and Hockey Fiesta Weekend