Since 2009, the annual Checking for Charity Hockey Tournament has taken place over the summer in Southern New Jersey.  Now, in its tenth year, the weekend tournament has become an offseason staple for a number of professional hockey players.
Set to begin on Friday, August 9, the tournament will encompass three days of games and feature an A-level, Pro-AM division that consists of a number of professional hockey players which includes NHL names like Johnny Gaudreau, Chris Kreider and even former Lehigh Valley Phantoms goaltender Anthony Stolarz.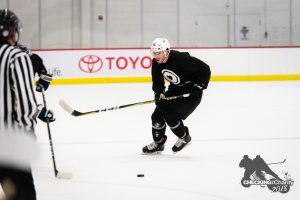 Lehigh Valley Phantoms defenseman T.J. Brennan will again be captaining a team, the Carefree Livin', that will feature multiple names that are well known to Phantoms fans such as: Carsen Twarynski, Steven Swavely, Samuel Morin and newcomer Eric Knodel.  The team, which made it to the finals this past year, will also be playing to benefit Phantoms Charities and its jerseys will proudly feature the crest of the nonprofit, charitable arm of the Lehigh Valley Phantoms.
According to Checking for Charity's website, since its inception in 2009 the nonprofit has put on 15 tournaments and has raised $417,900 for charity.
"I always look forward to this time of year just because it's such a good skate," Brennan told Dave Isaac of the Courier Post in an interview.  "It's competitive. You get that game-like timing and start to get into it a month before (NHL teams hold training) camp and just kind of gets you ready. Like, 'OK, it's around the corner. Step it up a notch.' I always look forward to it. If something more came out of it, I definitely wouldn't expect it right now but I certainly wouldn't be opposed to it, that's for sure."
The Carefree Livin' will play a game both Friday and Saturday in hopes of making Sunday's finals.  For the full team roster as well as the team's schedule, check out the information below.
For more information about the Checking for Charity Tournament this weekend, visit CheckingforCharity.org.
Photos courtesy of Wolfoto/Checking For Charity
---
Carefree Livin' Roster
Jon Swavely
Carsen Twarynski
Dillan Fox
Steven Swavely
Ryan Marker
Garrett Mitchell
Shane Brennan
Nick Master
Jacob MacDonald
Samuel Morin
T.J. Brennan
Eric Knodel
Nick Parody
Anthony Pupplo
Checking for Charity Tournament Schedule
Friday, August 9, 2019
Carefree Livin' vs. Untold Foundation
8:30 p.m. at the Igloo in Mount Laurel
Saturday, August 10, 2019
Selects Wounded Warriors vs. Carefree Livin'
10:50 a.m. at the Flyers Skate Zone in Voorhees
Sunday, August 11, 2019
Playoffs to be determined