Phantoms Sprint Past Rochester 3-2
January 6, 2023
Rochester, NY – Bobby Brink scored his first professional goal to lead the Lehigh Valley Phantoms to a 3-2 charge over the Rochester Americans on Friday night at Blue Cross Arena. The resilient Phantoms opened 2023 on a high-note with three goals within a 3:30 span in the final period to overcome a 1-0 deficit.
Brink was making his AHL and Phantoms debut having been cleared to play following hip surgery last July. The Flyers' second-round selection in 2019 out of the University of Denver almost broke through on a try in the first period cutting across the slot but his chance hit off a defender's leg and went wide. He wouldn't miss on his next big opportunity early in the third period when he scored the first Phantoms goal of 2023.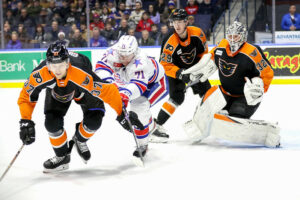 The two teams were engaged in a hard goaltenders' duel in the first 40 minutes in a battle of NHL goalies sent down to the AHL on conditioning loans. Felix Sandstrom was on top of his game in his first appearance with Lehigh Valley this season. Eric Comrie was matching Sandstrom save-for-save. Eventually, Lukas Rousek (10th) knifed through on a breakaway to get Rochester (17-11-2) on the board with 6:35 left in the second period.
Lehigh Valley (15-12-3) found its stride early in the third period just 2:30 in when Egor Zamula connected cross-ice for Brink who snapped a perfect shot into the net's top corner for his first professional goal. Adam Brooks earned the secondary helper.
The game remained tied for only 78 seconds. Tyson Foerster provided the Orange and Black with a 2-1 lead when Olle Lycksell hustled ahead on the forecheck to steal the puck and connect with his teammate in the slot who maneuvered the puck down low and to the stick-side of Comrie for a 2-1 lead at 3:48 into the third. Lycksell's 14th assist of the season leads the Phantoms.
The Americans would not go down quietly, and Anders Bjork tied the score at 2-2 with his fifth tally of the campaign on a big one-timer from the right circle at 5:11.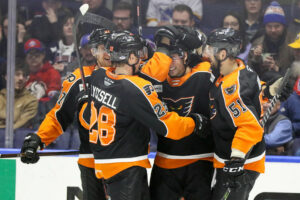 But, once again, the Phantoms counterpunched to regain a one-goal advantage. Following a flurry of chances at the net-front, Jackson Cates followed his own rebound off the pads of Comrie and tallied at 6:00 from Max Willman and Jordy Bellerive. Cates' sixth goal of the season proved to be the decisive, game-winning tally in a road thriller to open the 2023 portion of the Lehigh Valley Phantoms schedule.
Lehigh Valley killed a critical Rochester power play with 6:30 left in the third and then killed the Americans' 6-on-5 at the end of the game to preserve the win. The Phantoms' penalty kill came up big with a  3-for-3 performance.
The Phantoms swept the season series from Rochester 2-0 including a November 26 win by a 5-1 score at PPL Center.
The Phantoms are back in action on Saturday afternoon with a 4:00 p.m. tilt at the North Division-leading Toronto Marlies. The Phantoms return to PPL Center with a pair of games the weekend of January 13-14 taking on the Bridgeport Islanders and Syracuse Crunch back-to-back.
SCORING SUMMARY
2nd – 13:25 – ROC L. Rousek (10) (B. Murray) 0-1
3rd – 2:30 – LV B. Brink (1) (E. Zamula, A. Brooks) 1-1
3rd – 3:48 – LV T. Foerster (9) (O. Lycksell) 2-1
3rd – 5:11 – ROC A. Bjork (5) (L. Weissbach, E. Prow) 2-2
3rd – 6:00 – LV J. Cates (6) (M. Willman, J. Bellerive) 3-2
Shots:
LV 24 – ROC 26
PP:
LV 0/1, ROC 0/3
Goalies:
LV – F. Sandstrom (W) (1-0-0) (24/26)
ROC – E. Comrie (L) (1-2-0) (21/24)
Records:
Lehigh Valley (15-13-3)
Rochester (17-11-2)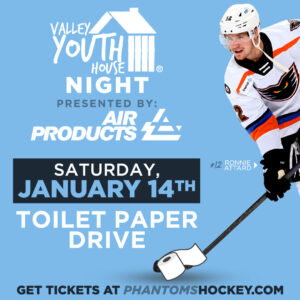 Phantoms Tickets are available HERE
UPCOMING SCHEDULE
Saturday, January 7 (4:00) at Toronto Marlies
Wednesday, January 11 (7:00) at Bridgeport Islanders
Friday, January 13 (7:05) vs. BRIDGEPORT ISLANDERS
Saturday, January 14 (7:05) vs. SYRACUSE CRUNCH
UPCOMING PROMOTIONS
Friday, January 13 (7:05) vs. Bridgeport Islanders – Berks Dollar Dog Night
Saturday, January 14 (7:05) vs. Syracuse Crunch – Valley Youth House Night Presented by Air Products – Toilet Paper Donation Drive with great prizes
Friday, January 27 (7:05) vs. Wilkes-Barre/Scranton Penguins – Flyers Night with Lou Nolan and GRITTY!!!
Saturday, January 28 (7:05) vs. Hershey Bears – meLVin Hat Night for the first 2,000 fans age 12 and under.