Penalty kill and Felix Sandstrom tremendous again in 2-1 overtime win
January 18, 2023
Cleveland, OH – Louie Belpedio did it again! With 59.8 seconds left in overtime, Belpedio crashed the net and scored the overtime winner to send the Phantoms to a 2-1 victory at the Cleveland Monsters on Wednesday night. It was Belpedio's second overtime goal of the season and also his second goal in as many games at Cleveland this week as the Phantoms swept the pair of road games.
Olle Lycksell (7th) tallied a power-play goal in the second period and the Phantoms penalty kill was perfect again while Felix Sandstrom stopped 20 shots, including 12 in the third period, in the hard-earned win. The Phantoms improved to 4-1-2 in calendar year 2023 with points in six of their last seven games.
Both teams traded chances in the opening stanza, and moments after Lehigh Valley (18-14-5) came within inches of striking first, Cleveland countered to open the scoring. In the Monsters' defensive zone, Kevin Connauton rang the iron behind goaltender Jet Greaves to nearly jumpstart the Phantoms offense. Play continued and transitioned after Connauton's close call, and Trey Fix-Wolansky wristed home his team-leading 17th goal of the season at 8:57. 
Lehigh Valley outshot the Monsters 9-4 after 20 minutes and out-chanced Cleveland (14-18-4) despite trailing at the break. The
Phantoms nearly pulled even in the period's dying seconds on a 2-on-1 rush with Artem Anisimov and Olle Lycksell. On a nifty give-and-go play, Anisimov's return pass hopped Lycksell's blade as the final seconds ticked down.
In the second period, the Orange and Black dictated the pace of play, fired 16 more shots on Greaves, and found the equalizer on a man-advantage. After an outstanding save made by Greaves on Elliot Desnoyers, Josh Dunne was whistled for a high-sticking infraction at 11:34. On Lehigh Valley's third power-play attempt of the night, Tyson Foerster, celebrating his 21st birthday, held the line in the offensive zone with a slick, hand-eye coordination play off a clearing bid. Foerster connected with Anisimov in the corner, who found an open Olle Lycksell in the slot. Lycksell lifted a quick shot over Greaves' shoulder to tie the contest at the 12:06 mark.
The Phantoms persisted and nearly grabbed a 2-1 lead, but the Cleveland netminder was once again bailed out by the goalpost. Bobby Brink rang the iron on a chance with 5:15 left in the period on an open look from the slot. Elliot Desnoyers was also robbed at the net front on a strong centering feed by Belpedio from the corner but Greaves turned in one of the best saves of the year to keep Cleveland in the game. Shots after 40 minutes were dominatingly in favor of the Phantoms at 25-8 after 40 minutes.
A track meet ensued in the third period with Sandstrom and Greaves going toe-to-toe with highlight reel saves. Lehigh Valley spent six minutes total down a man in the third period with Zayde Wisdom, Adam Ginning and Hayden Hodgson all called for minor penalties. The Phantoms' penalty kill finished the two-game road set at Cleveland going a perfect 10-for-10. Lehigh Valley also saw one fina
l crack on the power play late in regulation after Jake Christiansen was boxed for kneeing at 16:18. The Phantoms' power play unit finished the night 1-for-5.
The 1-1 deadlock progressed into sudden-death overtime, with the Phantoms already winners in three road overtime affairs this season. With one minute remaining on the clock, Artem Anisimov recycled a missed breakaway chance into a centering pass for Louie Belpedio. On the net's doorstep, Belpedio buried the overtime winner to lift Lehigh Valley to a thrilling, 2-1 win. Final shots totaled 33-21 Phantoms.
Belpedio started the 2022-23 season with overtime heroics on October 15, 2022 at Wilkes-Barre/Scranton, and he repeated the narrative in his club's first game of the season's second-half.
The Lehigh Valley Phantoms return to action on Friday, January 20 against their in-state rival Wilkes-Barre/Scranton Penguins at Mohegan Sun Arena at Casey Plaza. Puck drop is slated for 7:05 p.m.
SCORING SUMMARY
1st – 8:57 – CLE T. Fix-Wolansky (17) (B. Sweezey) 0-1

2nd – 12:06 – LV O. Lycksell (7) (A. Anisimov, T. Foerster) (PP) 1-1
OT – 4:00 – LV L. Belpedio (4) (A. Anisimov, O. Lycksell) 2-1
SHOTS:
LV 33 – CLE 21
PP:
LV 1/5, CLE 0/4
GOALIES:
LV – F. Sandstrom (W) (4-1-2) (20/21)
CLE – J. Greaves (OTL) (6-7-3) (31/33)
RECORDS:
Lehigh Valley (18-14-5)
Cleveland (14-17-5)
UPCOMING SCHEDULE
Friday, January 20 (7:05) at Wilkes-Barre/Scranton Penguins
Sunday, January 22 (11:00 a.m.) Outdoor Practice presented by Velaspan at Spring Mountain AdventuresWednesday, January 25 (7:05) vs. HERSHEY BEARS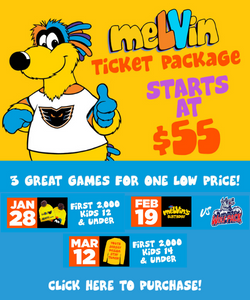 UPCOMING PROMOTIONS
Sunday, January 22 (11:00 a.m.) – Phantoms Outdoor Practice presented by Velaspan at Spring Mountain in Schwenksville. Free to the public!
Wednesday, January 25 (7:05) vs. Hershey Bears – Pregame Happy Hour. $2 Miller Lites and Yuenglings available until Puck Drop.
Friday, January 27 (7:05) vs. Wilkes-Barre/Scranton Penguins – Flyers Night with Lou Nolan and GRITTY!!!
Saturday, January 28 (7:05) vs. Hershey Bears – meLVin Youth Winter Hats presented by Lehigh Valley Reilly Children's Hospital (first 2,000 kids age 12 and younger)