Top Phantoms Players Join League Elite at Spectacular Event in Quebec
February 6, 2023
Ronnie Attard and Tyson Foerster represented the Phantoms and showed off their abilities at the AHL All-Star Classic in Laval, Quebec on Sunday and Monday. The light-hearted and fun event also saw lots of laughs and fan interaction north of the border as the two young Lehigh Valley players mingled with regular opponents whom they were now suddenly teammates with on the Atlantic Division squad.
For Ronnie Attard, there was already some familiarity within the Atlantic Division team as fellow All-Stars Brandon Bussi of Providence and Ethen Frank of Hershey had been teammates with Attard at Western Michigan University just one season ago.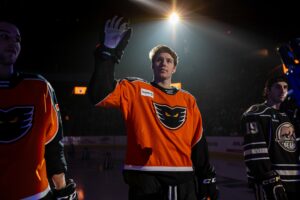 The Atlantic Division advanced to the Championship game in Monday's AHL All-Star Challenge but fell to the Pacific Division All-Stars 7-3.
In the final match of the round-robin 3-on-3 format tournament, Tyson Foerster impressed the big crowd at Place Bell in Laval when he scored a pair of goals just 42 seconds apart in the first period of the Atlantic Division's matchup against the North Division. The Atlantic eventually prevailed 4-3 after a crazy 11-round shootout to advance to the Championship game. Attard also had a goal in the tournament in a match against the Pacific Division.
Atta boy Attard! Ronnie with the All-Star goal! pic.twitter.com/4shuHI7Ubd

— Lehigh Valley Phantoms (@LVPhantoms) February 7, 2023
Tyson Forced-a puck into the net right here pic.twitter.com/DZGckvHvGA

— Lehigh Valley Phantoms (@LVPhantoms) February 7, 2023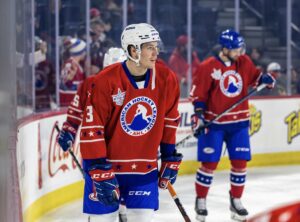 The Skills Competition on Sunday saw Attard finish third in the Hardest Shot contest registering a 97.2 mph clapper. Tyson Foerster hit all four targets on just six attempts in the Accuracy Shooting contest and also scored in the Breakaway Challenge. Our All-Star Mascot, meLVin, also made several thousand new fans North of the Border!
You can't spell All-Star Tyson Foerster without "for real" pic.twitter.com/c04dRZkqHD

— Lehigh Valley Phantoms (@LVPhantoms) February 6, 2023
Ronnie Attard come on down to compete in the CCM HARDEST SHOT challenge! pic.twitter.com/aVlKUhZJLw

— Lehigh Valley Phantoms (@LVPhantoms) February 6, 2023