Yet Another Returning Piece from Last Year's Group
July 25, 2023
Lehigh Valley, PA – The Lehigh Valley Phantoms have announced that defenseman Adam Karashik is returning to the Phantoms on a one-year AHL contract for the 2023-24 season. This will be Karashik's second full season with the Phantoms.
Karashik was limited to only 23 games with the Phantoms last season due to injuries keeping him out of action for parts of the campaign. He registered three assists with 33 penalty minutes a year ago and also played in eight games with Lehigh Valley at the conclusion of the 2021-22 campaign for a career total of 31 games with the Phantoms.
"I really like the staff and I really like the guys on the team," Karashik said. "It's an organization that I'm really excited to be a part of and to continue to be a part of. It really was a no-brainer for me to stay with Philly. There's opportunity and it fits my brand of hockey. I know that the organization wants to play the way that I like to play so it was easy for me."
He quickly latched on to his role as a team representative and ambassador in the Lehigh Valley region and was recognized at the end of the season as one of three recipients of the team's inaugural Community Spirit Award (along with Adam Brooks and Cooper Marody) following several visits to youth hockey programs, Phantoms Charities Sled Hockey, and area schools.
"It's important, especially for us with the amount of fans that we get on a consistent basis," Karashik said. "It's really important to give back to the community. I really enjoyed going to the schools and the anti-bullying program. And anywhere in the community that needs help it's always important to give back and is something that I focus on."
The Ridgefield, CT product also played in five games with the ECHL Reading Royals in 2022-23 in two different stints that included his first career pro goal in a game on October 30, 2022 vs. the Indy Fuel in which he scored a tying tally in the third period while shorthanded.
The 6-0 blueliner with a right-handed shot was previously captain of Notre Dame as a fifth-year senior in 2021-22 following four seasons at the University of Connecticut. The gritty defenseman finished second in Hockey East in blocked shots (51) in 2019-20.
Karashik played in 159 games in his NCAA career scoring 6-34-40 and also won a Clark Cup with the Chicago Steel in the USHL in 2017.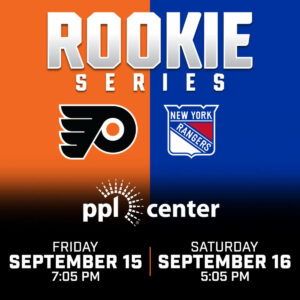 The NHL returns to PPL Center with the second annual Rookie Series in September. The Philadelphia Flyers take on the New York Rangers in a renewal of their great rivalry as the team's top prospects square off for a pair of games in the Lehigh Valley.
Tickets for the Rookie Series are available at PPLCenter.com
ROOKIE SERIES
Friday, September 15 (7:05 p.m.) – Philadelphia Flyers vs. New York Rangers
Saturday, September 16 (5:05 p.m.) – Philadelphia Flyers vs. New York Rangers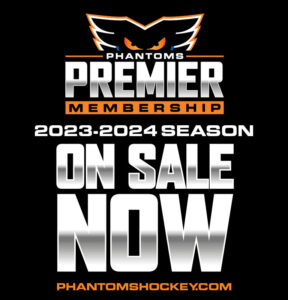 Phantoms Premier Memberships provide a true year-long membership that includes tickets to all Phantoms home games as well as year-round benefits and experiences that are exclusive to Premier Members only. Receive early entrance, presale ticket access for PPL Center events, 20% team store discount, enhanced insider access and experiences, and so much more!