Saturday, April 8, 2023 at 7:05 p.m.
Lehigh Valley Phantoms (36-26-6) vs. Springfield Thunderbirds (36-24-8)
PPL Center, Allentown, PA
TODAY
May the Foerster be with the Phantoms as Lehigh Valley strives to clinch a playoff berth in a Star Wars Night showdown against the Springfield Thunderbirds, AHL affiliate of the St. Louis Blues.
Lehigh Valley (36-26-6) has won five of its last six and also 10 out of 14 in its late-season surge. The Phantoms Magic Number for a playoff clinch is at three points and a Phantoms win combined with a Bridgeport loss would officially punch the team's ticket to the postseason.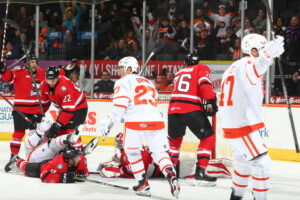 The fifth-place Phantoms occupy a playoff spot that would have them taking on the fourth-place Charlotte Checkers in the first round of the postseason. But the Phantoms are just two points back of third-place Springfield and fourth-place Charlotte in efforts to earn home-ice advantage.
Springfield (36-24-8) has a Magic Number of one point to try to clinch tonight and also is a potential first-round opponent of the Phantoms. There are just four games remaining in the regular season.
LAST TIME
Friday, April 7, 2023
Phantoms 5 – Checkers 2
Cooper Marody (13th, 14th) notched a three-point game in his return from an injury absence while Elliot Desnoyers equaled a Lehigh Valley record for goals by a rookie in a 5-2 win over the Charlotte Checkers at PPL Center on Friday night. Olle Lycksell (12th) is now on a two-game goal streak and Louie Belpedio (7th) had a goal and an assist while Adam Brooks added a pair of helpers. Sam Ersson returned from the Flyers with a  strong 29-save performance in his 23rd win of the season.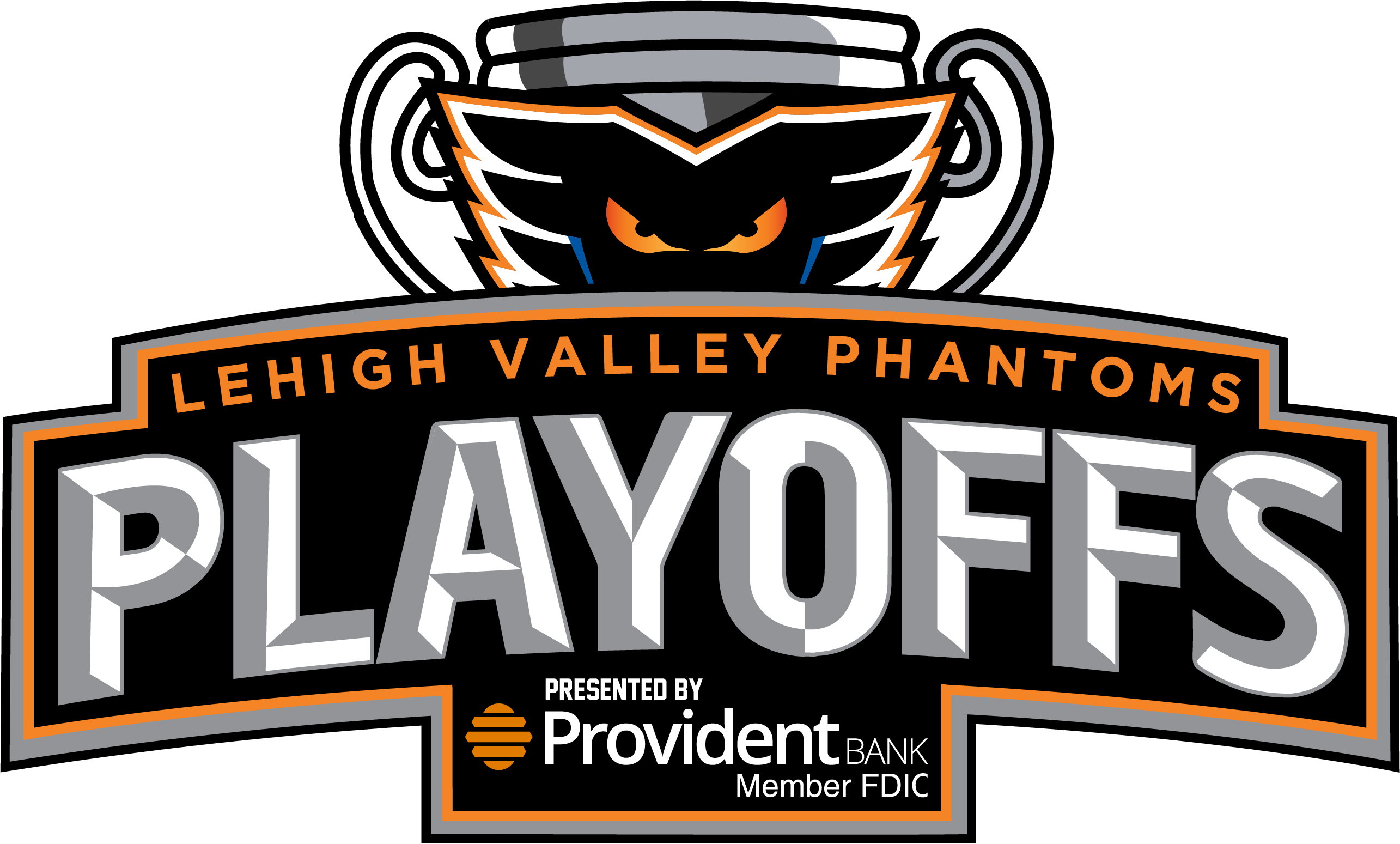 PLAYOFF OUTLOOK
Lehigh Valley's Magic Number to clinch a Calder Cup Playoff Berth is now three points and the Phantoms can potentially clinch tonight.
The Phantoms officially punch their ticket to the postseason if they defeat Springfield tonight AND if Bridgeport loses in any form (regulation, overtime or shootout) against Wilkes-Barre/Scranton.
Other scenarios for the Phantoms to clinch tonight include:
– Earning one standings point vs. Springfield AND Bridgeport gets zero points tonight.
– OR Lehigh Valley wins in regulation and Bridgeport wins in a shootout.
The current standings would have the Lehigh Valley Phantoms and Charlotte Checkers meeting in the first round in the 5 vs. 4 series as part of a Best of 3 matchup. The Phantoms are also two points behind third-place Springfield. Lehigh Valley can earn home-ice advantage in the first-round of the playoffs if the Phantoms can pass either Charlotte or Springfield for a Top 4 spot in the division.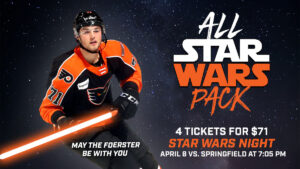 FOERSTER STAYS HOT
Tyson Foerster has kept his scoring touch since his return to the Phantoms from the Philadelphia Flyers. He cranked up his 20th goal of the season with the Phantoms on Friday after he had recorded an assist on the tying goal in his first game back last Sunday at Hershey. Foerster finished his stretch with Philadelphia on a five-game point streak including his first-career NHL goal on March 18 vs. Carolina followed by his second NHL goal against Marc-Andre Fleury of Minnesota with a snipe on the rush on March 23. Foerster impressed with the big club scoring 3-4-7 in eight games with the Flyers and now has a ten-game point streak (4-9-13) between the Flyers and Phantoms combined and has scored 1-6-7 with Lehigh Valley in five games since his return to the Phantoms lineup on March 26.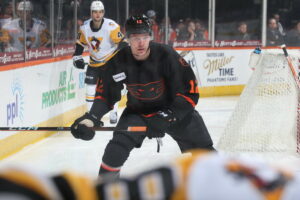 ATTARD RETURNS
Ronnie Attard has returned to the Lehigh Valley Phantoms after making his NHL season debut with the Flyers this week in a pair of games at St. Louis on Tuesday and at Dallas on Thursday. Attard's first full season of professional hockey has included 64 games with the Phantoms scoring 11-19-30. Attard leads all Phantoms defensemen in goals, assists and points and also is second on the team with 150 shots on goal. The Flyers Round 3 selection in 2019 played in 15 games with the Flyers at the end of last season scoring 2-2-4 upon his arrival from Western Michigan University.
RECORDS WATCH
Several Phantoms are establishing new marks and etching their names in the Lehigh Valley record book.
Elliot Desnoyers is tied for the most goals by a rookie on Lehigh Valley at 22 which was also accomplished by Danick Martel in 2015-16. The all-time franchise record for goals by a rookie is 24 by Kyle Greentree of the Philadelphia Phantoms in 2007-08.
Adam Ginning was +3 in Friday's game to take the lead for the best plus-minus in Lehigh Valley history.
Garrett Wilson's penalty in yesterday's game established a new mark for career PIM for Lehigh Valley.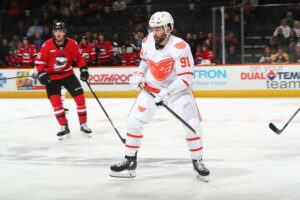 Most goals by Rookie – Lehigh Valley
1. Elliot Desnoyers – 22 (2022-23)
1. Danick Martel – 22 (2015-16)
3. Connor Bunnaman – 19 (2018-19)
Most wins in season by Goalie – Lehigh Valley
1. Alex Lyon – 27 (2016-17)
2. Sam Ersson – 23 (2022-23)
3. Anthony Stolarz – 21 (2015-16)
3. Ron Zepp – 21 (2014-15)
Single-Season Plus-Minus – Lehigh Valley
1. Adam Ginning 25 (22-23)
2. Nic Aube–Kubel 24 (17-18)
3. Max Lamarche 21 (17-18)
Penalty Minutes (Career) – Lehigh Valley
1. Garrett Wilson 314
2. Tyrell Goulbourne 313
3. Samuel Morin 289
PHANTASTIC!
– The Phantoms have won five of their last six games and are also 10-4-0 in their last 14 games since March 4
– The Phantoms are….
26-9-2 when scoring a power-play goal
32-8-4 when scoring 3 or more goals
28-2-1 when allowing 2 goals or fewer
20-6-6 in one-goal games
17-3-6 when scoring the first goal
22-2-4 when leading after two periods
6-3 in overtime and 4-3 in shootouts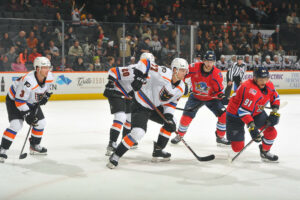 ABOUT THE T-BIRDS
Springfield (36-24-8) had its five-game point streak ended on Friday in a 3-2 loss against Hershey. The Thunderbirds are barely ahead of Charlotte for third-place in the Atlantic Division but both teams have exactly 80 points and are only two points ahead of the Phantoms. A Lehigh Valley win tonight could potentially force a three-way tie and could even vault the Phantoms into third-place based on tiebreakers. The St. Louis Blues affiliate and defending Eastern Conference Champions snagged an impressive three-game series sweep at Charlotte last week including a pair of high-scoring games with wins by 7-4 and 6-5 (OT) counts. Springfield is bolstered by the return of goaltender Joel Hofer (15-5-4, 2.57, .918) from St. Louis. The Team Canada gold medal-winning goalie in 2020 did well in his recent NHL stint with the Blues going 3-0-1, 2.79, .915. Hard-shooting Martin Frk, who set a record with a 109.2 mph slapshot at the 2020 All-Star Skills Competition, shook off a sluggish start for this season and has now cranked up 30 goals with two hat tricks this year including 10 goals in the last 14 games. Scott Perunovich (2-15-17) is with the team again as well as he recovers from shoulder surgery at the beginning of the season. The hard-shooting defenseman and 2020 Hobey Baker winner at Minnesota-Duluth won an NCAA Championship alongside Lehigh Valley's Jackson Cates.  The Thunderbirds are clicking at 22.8% on the powerplay, fourth in the AHL and second-best in the conference behind only Toronto. The Phantoms are 2-1-0 against Springfield this season including a 2-1 win on November 11 on the T-Birds' lone previous visit to PPL Center.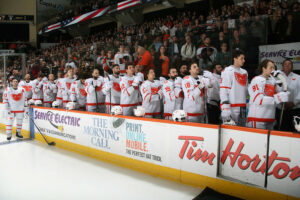 Phantoms Scoring Leaders
Tyson Foerster 20-25-45
Elliot Desnoyers 22-20-42
Olle Lycksell 12-30-42
Garrett Wilson 17-22-39
Cooper Marody 14-23-37
T-Birds Scoring Leaders
Martin Frk 30-34-64
Matthew Highmore 19-42-61
Will Bitten 20-20-40
Nikita Alexandrov 18-16-34
Matthew Peca 8-26-34
Phantoms Tickets are available HERE
SPECIAL TEAMS 
Lehigh Valley Power Play – 21.4%, 7th
Lehigh Valley Penalty Kill – 74.1%, 32nd
Springfield Power Play – 22.8%, 4th
Springfield Penalty Kill – 81.3%, 15th
UP NEXT
The Phantoms play at the Bridgeport Islanders on Wednesday night and then return to PPL Center for the regular season home finale on Friday, April 14 against the Charlotte Checkers. Lehigh Valley's last game of the 2022-23 regular season is Saturday, April 15 at the Hershey Bears.
Phantoms Tickets are available HERE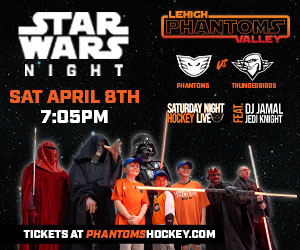 UPCOMING SCHEDULE
Saturday, April 8 (7:05) vs. SPRINGFIELD THUNDERBIRDS
Wednesday, April 12 (7:00) at Bridgeport Islanders
Friday, April 14 (7:05) vs. CHARLOTTE CHECKERS
Saturday, April 15 (7:00) at Hershey Bears
UPCOMING AT PPL CENTER
Saturday, April 8 (7:05) vs. Springfield Thunderbirds – Star Wars Night! SNHL with DJ Jamal "Jedi" Knight. Postgame Auction – Whiteout Jerseys
Friday, April 14 (7:05) vs. Charlotte Checkers – Regular Season Home Finale. Berks $1 Hot Dogs
CALDER CUP PLAYOFFS – TBD
Broadcast coverage of all Phantoms games with Bob Rotruck is available on the Phantoms 365 app and on Real Oldies 1470-AM in Allentown. Also available on the Listen Live button at phantomshockey.com
Fans can also watch the games on AHLTV.com or can listen on their Smart Speakers at: "Play Phantoms Radio 24/7."
Service Electric Network again provides exclusive television coverage of all Phantoms home games with veteran announcer Steve Degler and Phantoms' alum Steven Swavely on the call from the booth. Kristi Fulkerson reports from ice level and also from the Chickie's and Pete's studio with Dan Fremuth for pregame, intermission and postgame show analysis.