Sunday, February 26, 2023 at 5:00 p.m.
Lehigh Valley Phantoms (25-21-6) at Bridgeport Islanders (23-20-8)
Total Mortgage Arena, Bridgeport, CT
TONIGHT
The Lehigh Valley Phantoms travel to Connecticut for a Sunday evening showdown with the Bridgeport Islanders. Tonight's contest is the third game in a four-game road swing for the Phantoms.
Lehigh Valley (25-21-6) gained a valuable standings point in a Saturday 4-3 shootout loss at the Hershey Bears to move up in the standings and forge a fourth-place tie with the Springfield Thunderbirds.
Bridgeport (23-20-8) is just one point behind Hartford for the final playoff spot in the division and the seventh-place Islanders trail the Phantoms by just two points.
There are 20 games remaining in the regular season.
LAST TIME
Saturday, February 25, 2023
Bears 4 – Phantoms 3 (SO)
Wyatte Wylie (3rd) and Hayden Hodgson (3rd) scored in the third period as the Phantoms overcame a 3-1 deficit at Hershey to earn a valuable standings point on Saturday night. Tyson Foerster (18th) scored in the first period and also in the third round of the shootout to keep the Phantoms alive but Henrik Borgstrom knocked home the shootout winner in Round 4. Mike Sgarbossa scored a goal in the opening seconds of the third period to give Hershey a 3-1 lead that the Phantoms contended was touched across the crease by a high stick from Mike Vecchione. Bobby Brink had a chance to give the Phantoms the lead in the second period with the team's first penalty shot in about one-and-a-half seasons but was denied by Zach Fucale. Nolan Maier had a strong game in the shootout loss including some key denials in a third-period Hershey power play.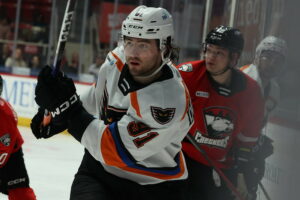 DESI MOVES UP!
Elliot Desnoyers made his NHL debut on Saturday at the New Jersey Devils on his first career NHL recall.. The 21-year-old rookie leads Lehigh Valley with 19 goals and 36 points. Desnoyers has been on a torrid pace in February scoring 5-7-12 in just seven games including a career-best four-point game on Sunday, February 19 with one goal and three assists.
"The Destroyer" became the third Lehigh Valley product to make an NHL debut with the Flyers this season joining Olle Lycksell and Sam Ersson.
Denoyers is three away from the all-time Lehigh Valley record for goals by a rookie held by Danick Martel (correcting earlier info) and his 19 goals this season rates third among AHL rookies.
LEHIGH VALLEY RECORD BOOK – GOALS BY ROOKIE
22 – Danick Martel (2015-16)
19 – Elliot Desnoyers (2022-23)
19 – Connor Bunnaman (2018-19)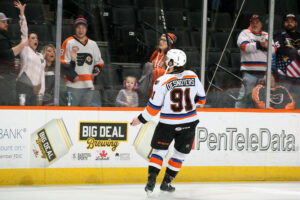 PHANTASTIC!
– The Phantoms are….
19-7-5 when scoring 3 or more goals
20-1-1 when allowing 2 goals or fewer
14-5-6 in one-goal games
13-3-6 when scoring the first goal
17-2-4 when leading after two periods
4-3 in overtime and 3-2 in shootouts
ABOUT THE ISLANDERS
It's been a streaky season for Bridgeport (23-20-8) who began the campaign as one of the best teams in the league and then fell into an 11-game losing skid in November and December. The Islanders are stronger again and currently stand one point back of the division's final playoff spot and only two points back of fourth place Lehigh Valley and Springfield.
Sam Ersson recorded a 15-save shutout against the Islanders in the last meeting on February 11 at PPL Center. Lehigh Valley is 3-1-1 against the B-Isles entering Game 6 of 8 in the series. Chris Terry (17-33-50) leads the offensive attack and ranks 10th in the AHL. Former Phantom Andy Andreoff (21-20-41) has returned from an NHL recall to provide additional scoring punch. Second-rounder Ruslan Ishakov (12-27-39) is second among all AHL rookies in assists and sixth in points. 36-year-old veteran goaltender Cory Schneider (15-5-3, 2.57, .922) brings 410 games of NHL experience to the crease for Brent Thompson's contingent.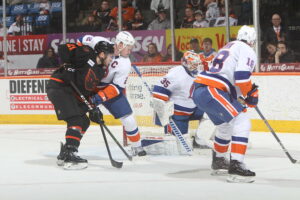 SEASON SERIES
Lehigh Valley is 3-1-1 against the Islanders entering Game 6 out of 8 in the season series.
Bridgeport Islanders: (3-1-1)
10/29/22                    Home        L              3-6
12/28/22                    Home        W             6-5 (SO)
1/11/22                      Away         W             3-1
1/13/22                      Home        OTL           3-4 (OT)
2/11/22                      Home        W             3-0
2/26/22                      Away
4/2/22                       Away
4/12/22                      Away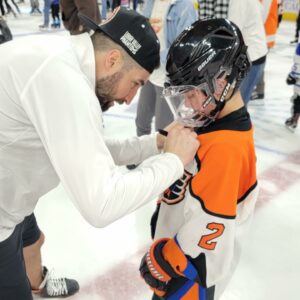 Phantoms Scoring Leaders
Elliot Desnoyers 19-17-36
Tyson Foerster 18-17-35
x Olle Lycksell 9-25-34
Garrett Wilson 9-16-25
Artem Anisimov 13-11-24
Ronnie Attard 8-15-23
Islanders Scoring Leaders
Chris Terry 17-33-50
Andy Andreoff 21-20-41
Ruslan Ishakov 12-27-39
William Dufour 18-18-36
x Arnaud Durandeau 13-20-33
Phantoms Tickets are available HERE
SPECIAL TEAMS 
Lehigh Valley Power Play – 23.1%, 6th (vs. BRI 3/13, 23.1%)
Lehigh Valley Penalty Kill – 73.4%, 32nd
Bridgeport Power Play – 23.8%, 4th (vs. LV 5/14, 35.7%)
Bridgeport Penalty Kill – 81.6%, 13th
UP NEXT
The Phantoms conclude their stretch of four straight away games next Friday at the Syracuse Crunch. The Phantoms return to PPL Center on Saturday, March 4 against the Toronto Marlies and Sunday, March 5 at 4:05 p.m. against the first-place Providence Bruins.
Phantoms Tickets are available HERE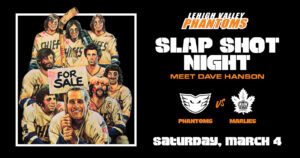 UPCOMING SCHEDULE
Sunday, February 26 (5:00) at Bridgeport Islanders
Friday, March 3 (7:00) at Syracuse Crunch
Saturday, March 4 (7:05) vs. TORONTO MARLIES
Sunday. March 5 (4:05) vs. PROVIDENCE BRUINS
UPCOMING PROMOTIONS
Saturday, March 4 (7:05) vs. Toronto Marlies – Slap Shot Night with Dave Hanson!
Sunday, March 5 (7:05) vs. Providence Bruins – Team Poster Giveaway and Postgame Autographs
Saturday, March 11 (7:05) vs. Belleville Senators – Hockey Fiesta Weekend
Sunday, March 12 (4:05) vs. Utica Comets – meLVin Youth Jersey Day (first 2,000 kids age 4 and younger) and Hockey Fiesta Weekend
Broadcast coverage of all Phantoms games with Bob Rotruck is available on the Phantoms 365 app and on Real Oldies 1470-AM in Allentown. Also available on the Listen Live button at phantomshockey.com
Fans can also watch the games on AHLTV.com or can listen on their Smart Speakers at: "Play Phantoms Radio 24/7."
Service Electric Network again provides exclusive television coverage of all Phantoms home games with veteran announcer Steve Degler and Phantoms' alum Steven Swavely on the call from the booth. Kristi Fulkerson reports from ice level and also from the Chickie's and Pete's studio with Dan Fremuth for pregame, intermission and postgame show analysis.