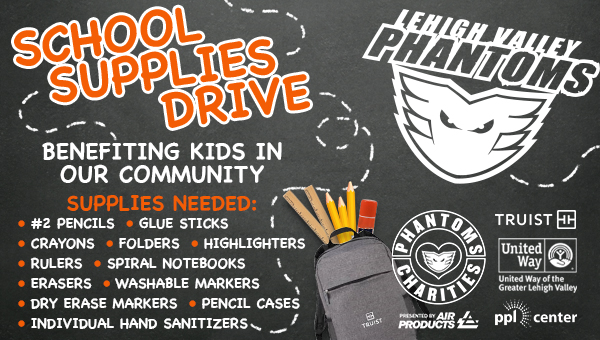 Phans, partners, and friends in the community are encouraged to bring the most critically needed school supplies (see list) for donation. Collections will be daily from 8:00 am – 4:00 pm from Wednesday, June 15 – Friday, July 22. Drop off boxes are located inside the 69 WFMZ-TV Gate near Tim Horton's at the PPL Center (701 Hamilton Street).
Our staff will be volunteering to uniformly stuff donated supplies into 250 backpacks generously provided by our partners at Truist. Please save the date and join us at 11:00 am on August 3rd at the PPL Center to see our staff backpack stuffing event. meLVin will surely be excited to see all of the supplies we have collected over the summer!
The United Way of the Greater Lehigh Valley will distribute backpacks filled with supplies to kids most in need of this support.
Thanks to Phan Nation, our partners at Truist, and our friends at the United Way, elementary students throughout our community will be prepared for their first day of school for the 2022-2023 school year!