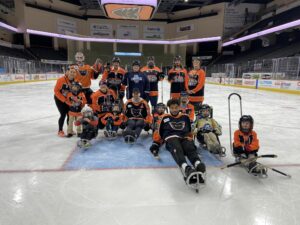 Hockey is for everyone! 
Volunteers are an integral part of the team. Our volunteers often say they received more than they gave from their experience on our team. If you'd like to speak with a volunteer to get some inspiration, let us know!
Volunteer Role: Support coaches; mentor athletes on ice; push athletes in sleds (volunteers 18 years old or older); gather equipment before and after practice and return to storage; model obstacles, drills, and scrimmages as needed; reinforce safety protocols; be a team player and positive role model
Requirements & Training: Volunteers must know how to skate and must own their own skates. Bring other equipment if you have it and prefer it, otherwise a helmet will be provided. All volunteers must wear a helmet when on the ice at all times.
Volunteers with a 2007 birth year or earlier (turning 16 on or before December 31, 2023)
Must register with USA Hockey.

Do not require SafeSport Training or a Background Screen.

Volunteers with a 2006 birth year or earlier (turning 17 on or before December 31, 2023)
Must register with USA Hockey and complete SafeSport Training.

Do not required Background Screen.

Volunteers with a 2005 birth year or earlier
Must register with USA Hockey, complete Background Screen and SafeSport Training.
Volunteers will be reimbursed for all related out-of-pocket costs. Email Jennifer Keeble for a Check Request form and submit along with receipts. Reimbursement is only possible with proof of receipts so please keep diligent track throughout the process.
Register as a member of USA Hockey as a volunteer (Free)
NOTE: Required each season.
USA Hockey National Level Background Screen ($30)

https://www.usahockey.com/backgroundscreen.com
This is a screening required by USA Hockey. You will need to upload a government ID such as a driver's license. As a PA resident, you will need to upload your PA State Police Criminal Background, Child Abuse History Clearance, and FBI Criminal Background Clearance.
NOTE: USA Hockey screenings completed in the first quarter of 2022 are valid through August 31, 2023. Thereafter in 2022 are valid through August 31, 2024.
Complete USA Hockey SafeSport Training (FREE)

You will need your own USA Hockey Confirmation Number and your own email address to access the training. You will need to create an account if you are a first-time user.
NOTE: SafeSport Training is required every 12 months. Refresher courses are brief and take about 20 minutes.
At your first practice, all volunteers are required to sign the PPL Center waiver and Volunteer Clause which will be valid for the season.
 Once you have completed requirements, email Jennifer Keeble with your USA Hockey membership number so that you may be added to the official roster and approved to attend our next practice.