Wednesday, November 1 at 7:00 p.m. – GIANT Center, Hershey, PA
Lehigh Valley (3-4-0) at Hershey (6-2-0)
TONIGHT
The Lehigh Valley Phantoms rush into November with a rivalry clash at the Hershey Bears. This is a rematch of Saturday's game against the Chocolate and White which the Bears won 4-0. It is also Game 2 out of 12 against the AHL affiliate of the Washington Capitals.
The I-78 rivals are in the midst of a stretch of four games against each other within 15 days from October 28 through November 12.
LAST TIME
Olle Lycksell broke through in the third period with his team-leading sixth goal of the season to pull the Phantoms to within a goal of Hartford but the visiting Wolf Pack pulled away with a pair of late tallies in a 4-1 final on Sunday evening at PPL Center.
Riley Nash scored two power-play goals to pace the Hartford attack. The Phantoms were held to under 30 shots on goal for the first time this season.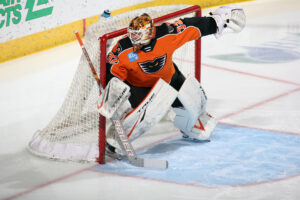 TRANSACTIONS
Oct 31 – Felix Sandstrom (G) – Conditioning Loan to Lehigh Valley from Philadelphia
Oct 31 – Parker Gahagen (G) – Loaned from Lehigh Valley to Reading
Oct 31 – Matt Brown (F) – Loaned from Lehigh Valley to Reading
Oct 30 – Will Zmolek (D) – Recalled to Lehigh Valley from Reading
WELCOME BACK, FELIX
Goaltender Felix Sandström has joined the Lehigh Valley Phantoms on an NHL conditioning loan from the Philadelphia Flyers. The 26-year-old netminder played in seven games with the Phantoms last year going 4-1-2, 2.39, .911 with Lehigh Valley and also played in 20 games with the Flyers going 3-12-3, 3.72, .880. The 6'2″ goaltender from Stockholm, Sweden was a Round 3 selection of the Flyers in the 2015 NHL Entry Draft. Sandström has played in 62 career games with the Phantoms beginning in the 2018-19 season going a combined 26-22-10, 2.87, .904. He also has 25 career NHL games with the Flyers and 25 games with the Reading Royals of the ECHL in 2019-20 for a combined total of 114 pro games in North America.
PHANTASTIC!

Lehigh Valley had a power-play goal in each of its first five games before recording zero PPG last weekend.
The Phantoms had a streak of six consecutive games with 31 or more shots on goal before registering just 21 shots on Sunday
The Phantoms have 90 shots on goal in the second period which is most of all AHL teams
Olle Lycksell (6-0-6) has scored all six of his goals in the last five games and is tied for third in the league in lamplighters.
Tanner Laczynski (1-6-7) has a four-game point streak and leads the team in scoring but missed both games last weekend due to illness
The Phantoms were 2-0-0 on Sundays before the loss to Hartford last weekend
Lehigh Valley leads the AHL with three shorthanded goals. The Phantoms scored all three in the same game on October 15 against Belleville to tie a franchise record.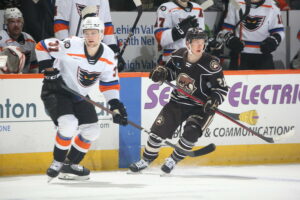 HEADING TO HERSHEY
The Phantoms return to Hershey (6-2-0) following their recent clash in Chocolate Town on Saturday. The Phantoms dropped a 4-0 decision in their last excursion down I-78.
Hershey then proceeded to complete a big weekend with a 6-1 thumping of the Wilkes-Barre/Scranton Penguins on Sunday. The Bears stifling defense surrenders just 24.7 shots per game which is best in the Eastern Conference
Veteran Mike Sgarbossa (3-6-9) leads the defending Calder Cup Champs. Ethen Frank (5-3-8) is picking up where he left off following his sensational 30-goal rookie campaign. The Western Michigan product scored nine goals against the Phantoms last season including a hat trick in the 2022-23 season finale. Former Phantom Mike Vecchione (3-3-6) scored against his former team on Saturday and also had the Calder Cup-clinching goal in overtime of Game 7 against Coachella Valley last June.
Several former Phantoms are part of the Hershey roster including Mike Vecchione, Logan Day, Matt Strome and also Garrett Roe who played for the Adirondack Phantoms 2011-13.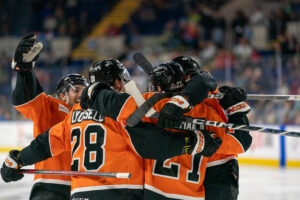 Phantoms Scoring Leaders
Tanner Laczynski 1-6-7
Olle Lycksell 6-0-6
Cooper Marody 2-3-5
Samu Tuomaala 1-3-4
Bears Scoring Leaders
Mike Sgarbossa 3-6-9
Joe Snively 3-6-9
Ethen Frank 5-3-8
Alex Limoges 1-7-8
SPECIAL TEAMS
Lehigh Valley PP, 13.2% (28th)
Lehigh Valley PK 77.4% (22nd)
Hershey PP 29.6% (4th)
Hershey PK 86.8% (8th)
UP NEXT
Lehigh Valley's next home game is Friday, November 3 in another showdown against Hartford on Swiftie Takeover Night!
UPCOMING
Wednesday, November 1 (7:00) – Lehigh Valley Phantoms at Hershey Bears
Friday, November 3 (7:05) – Hartford Wolf Pack at Lehigh Valley Phantoms – SWIFTIE Takeover Night!
Saturday, November 4 (7:05) – Lehigh Valley Phantoms at Springfield Thunderbirds
Wednesday, November 8 (10:35 a.m.) – Lehigh Valley Phantoms at Springfield Thunderbirds
Saturday, November 11 (7:05 p.m.) – Hershey Bears at Lehigh Valley Phantoms
Sunday, November 12 (3:00 p.m.) – Lehigh Valley Phantoms at Hershey Bears