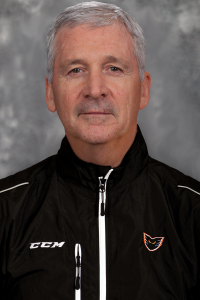 Terry Murray returns to the Phantoms organization after serving as an Assistant Coach with the Buffalo Sabres. Prior to that, Murray was the Head Coach of the Adirondack and Lehigh Valley Phantoms for three seasons from 2012-2015, including the Inaugural Season at PPL Center. Murray served as the Phantoms honorary captain when the 2017 AHL All-Star game was held in Allentown.
Murray, 68, has over 30 years of professional coaching experience including serving as the Head Coach of the Washington Capitals from 1989-1993, the Philadelphia Flyers from 1994-1996, the Florida Panthers from 1998-2001, and the Los Angeles Kings from 2009-2011. Murray has also served as an assistant coach for the Washington Capitals from 1983-1988, the Philadelphia Flyers from 2003-2008 and the Buffalo Sabres from 2015-17. He has a 499-383-130 record as an NHL head coach.
A native of Shawville, Quebec, Murray played 302 career NHL games, spending time with the California Golden Seals, Philadelphia Flyers, Detroit Red Wings, and Washington Capitals. Murray also won the Eddie Shore Award two consecutive years as the AHL's best defenseman in 1977-78 and 1978-79.