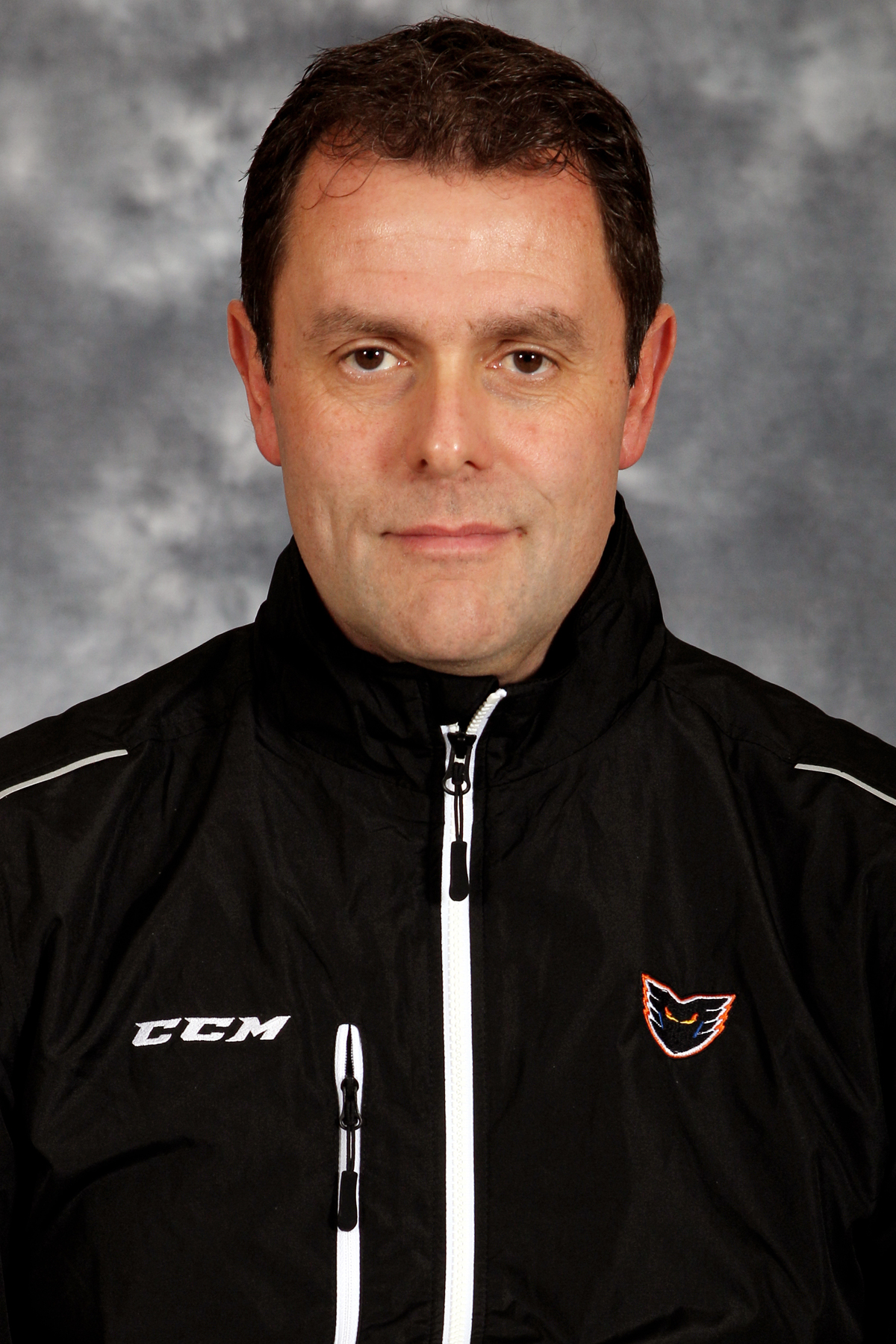 Scott Gordon is entering his fifth season as Head Coach of the Phantoms. Gordon was originally hired as the head coach of the Phantoms on July 13, 2015 and will enter the 2019-20 season with a 144-86-15-9 record in 254 games with the team, including seasons of 101 and 104 points, respectively, in 2016-17 and 2017-18; the 2017-18 squad won the Atlantic Division title and made a trip to the AHL's Eastern Conference Finals. He currently ranks 9th in AHL history in career wins by a head coach.
The ninth head coach in team history, Gordon, 56, is a native of Brockton, Massachusetts. Gordon finished the 2018-19 season in the NHL with the Philadelphia Flyers after he was named interim head coach on December 17, 2018. He guided the team to a 25-22-4 record over the final 51 games of the season. Before joining the Phantoms, he had most recently served as an assistant coach with the Toronto Maple Leafs from 2011 to 2014. Prior to that, he was the head coach of the New York Islanders for parts of three seasons from 2008 to 2010.
After serving as an assistant coach for parts of three seasons, he replaced Mike Sullivan as head coach of the Providence Bruins late in the 2002-03 campaign and guided the Bruins over the next five seasons. During that time, Gordon registered a 221-141-47 overall mark en route to playoff appearances in five of those six campaigns. In his final season at the helm in Providence, the Bruins produced a 55-18-7 overall record and a league-leading 117 points earning Gordon the Louis A.R. Pieri Memorial Award presented to the AHL's Coach of the Year.
In addition to his professional coaching experience, Gordon also has extensive international experience behind the bench. He served as an assistant coach for the United States at the 2010 Winter Olympics in Vancouver helping the U.S. claim a silver medal. What's more, he was an assistant coach for the United States at both the 2009 and 2011 IIHF World Championships.
After an eight-year career as a professional goaltender, which included 23 games with the Quebec Nordiques, Gordon began his coaching career as an assistant coach with the Atlanta Knights of the International Hockey League (IHL) from 1994 to 1996. He earned his first head coaching position in 1998 with the Roanoke Express of the ECHL. In two seasons behind the bench in Roanoke, Gordon compiled an 82-42-16 overall record and guided the Express to the postseason in both campaigns.