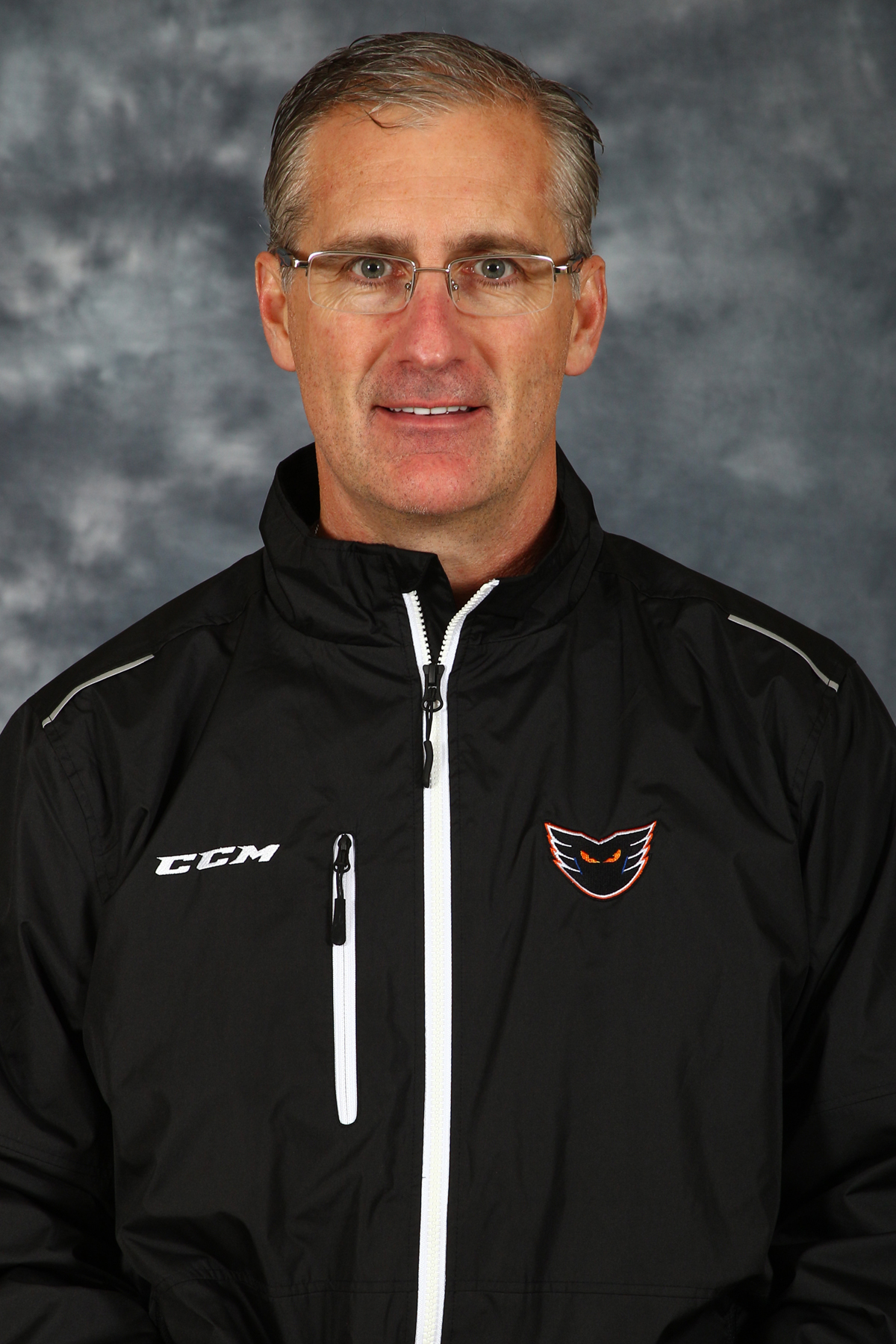 Kerry Huffman is currently in his fourth season as the assistant coach of the Lehigh Valley Phantoms. Huffman has been with the Phantoms since 2016-17. Last season, Huffman took over as interim head coach on December 17, 2018 when Scott Gordon was named the interim head coach for the Flyers and led the team for the final 50 games of the season, posting a record of 24-21-3-2.  Before coming to the Lehigh Valley, he spent one season as the General Manager and Assistant Coach with the Wilkes-Barre/Scranton Knights of the North American Hockey League (NAHL).
Huffman, 51, produced 37 goals, 108 assists, 145 points and 361 penalty minutes across 401 career NHL games during time with the Philadelphia Flyers, Quebec Nordiques and Ottawa Senators. A first-round selection (#20 overall) by Philadelphia in the 1986 NHL Entry Draft, he tallied 23 goals, 61 assists, 84 points and 124 penalty minutes in 207 career games with the Flyers.
Kerry was born in Peterborough, Ontario Canada and currently resides in New York. After a thirteen year professional playing career he retired and created ProAthlete Loan, a company that specialized in helping professional athletes secure various types of financing. Kerry's love and passion for the game brought him back to work in the representation field and became a NHLPA certified player agent. He has worked with management companies that have been in existence since the early 80′s that have represented some of the most successful people in the field of professional sports as well as music and entertainment.
Kerry also created Platinum Hockey Group Consulting Company and has worked with companies that have represented and advised players at all levels including current NHL stars like Mike Cammelleri, Tyler Seguin, Alex Galchenyuk, Nail Yakupov and Olli Yokinen, Scott Gomez as well as former stars Ron Hextall, Rick Tocchet, Brian Propp, Tim Kerr, Dave Poulin, Scott Mellanby, Garth Snow, Paul Holmgren, Craig Berube, Gord Murphy, Bob Corkum, Keith Jones and Murray Craven. Kerry has worked with players in the NHL, AHL, ECHL, Europe and Major Junior, and has advised young players in minor hockey and college on the many complex situations they have faced.