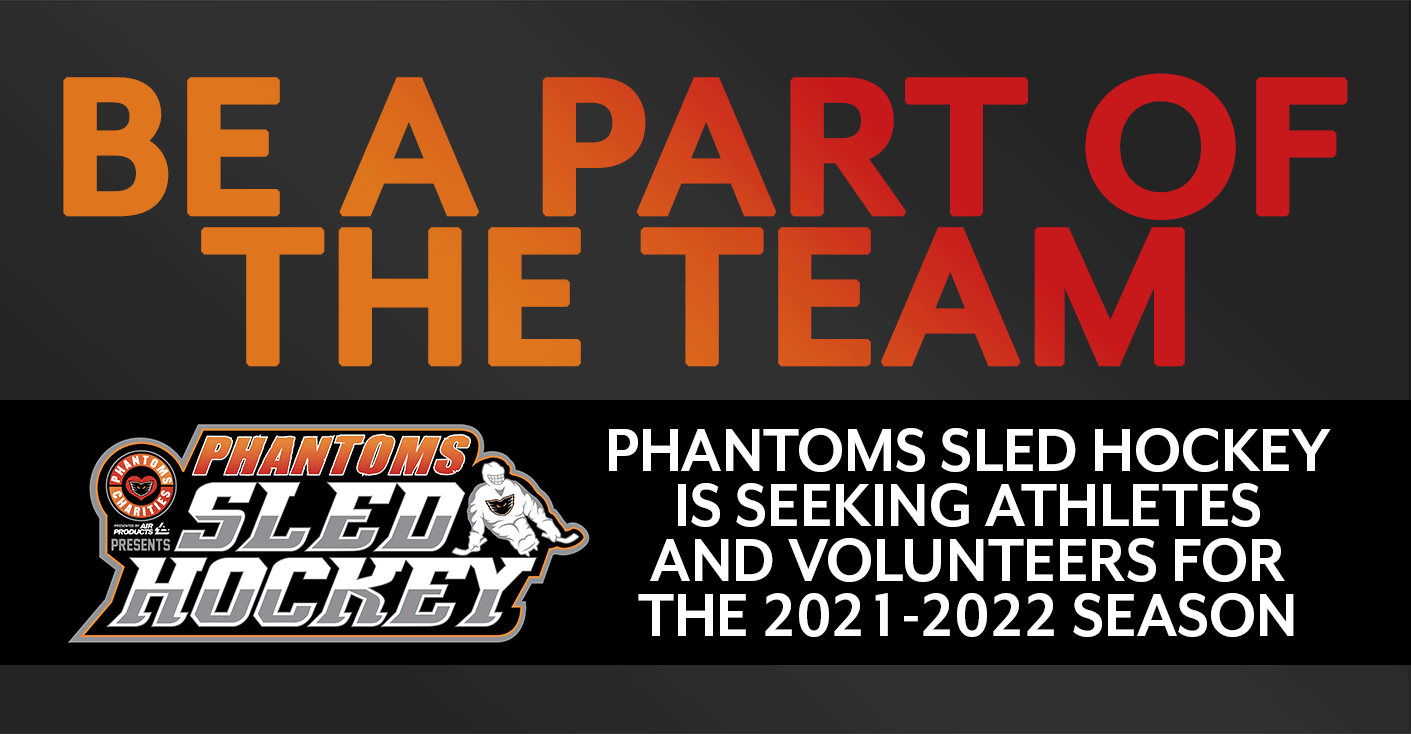 Hockey is for everyone! 
Phantoms Charities presents Sled Hockey is for youth (ages 5-17) with mobility challenges.
Volunteers are an integral part of the team.  Volunteers must know how to skate and must own their own skates.  Bring other equipment if you have it and prefer it, otherwise a helmet will be provided for you.  All volunteers must wear a helmet when on the ice at all times.  We invite siblings, family members, season ticket holders, and community members to be volunteers.  In the interest of safety of our athletes and families, all required volunteer paperwork must be submitted, in its completion, prior to attending a practice. 
---
On-Ice Volunteer
Support Coaches; mentor athletes on ice; push athletes in sleds as needed; support athletes in entering/exiting ice; gather all equipment before and after practice and return to storage. 
ON-ICE VOLUNTEER Training & Volunteer Requirements
These apply for anyone 18 years old or older (or turning 18 years old during season). Volunteers will be reimbursed for all related out-of-pocket costs.  Email Jennifer Keeble for a Check Request form and submit along with receipts.  Reimbursement is only possible with proof of receipts so please keep diligent track throughout the process.  Requirements for first timers may take up to about 3 hours total, but often times takes less.
Register as a member of USA Hockey ($56.00 Register under the ice player/coach – allows ice participation – category; 5 minutes or less to complete)
USA Hockey National Level Background Screen ($30; 5 minutes or less to complete)

https://www.usahockey.com/backgroundscreen.com
This is a screening required by USA Hockey.  You will need to upload a government ID such as a driver's license.  As a PA resident, you will need to upload your PA State Police Criminal Background, Child Abuse History Clearance, and FBI Criminal Background Clearance.  Once you complete the initial screen, they will prompt you with how to complete the additional three, and how to upload them.

Complete USA Hockey Safe Sport Training (FREE; full training a couple of hours to complete, the refresher is less than 30 minutes)

You will need your own USA Hockey Confirmation Number and your own email address to access the training.
You will need to create an account for this .

At our first practice, you will sign the PPL Center waiver, USA Hockey Waiver, and Volunteer Clause which will be valid for the season.
Once you have completed all requirements  email Jennifer Keeble so that you may be added to the roster.  
The official schedule will be released late summer.  Every effort is being made to have a schedule similar to previous seasons which was twice a month, on Tuesdays, from 5:30-6:30 p.m. at the PPL Center in Allentown.
Once the schedule is released, you will be asked to commit to each specific date in which you are available in order to ensure we have the necessary on ice support at each practice.
Ice Location:
PPL Center – Home of the Lehigh Valley Phantoms
701 Hamilton Street
Allentown, PA 18101
Enter via Air Products gate and proceed to 110 Tunnel/BSI on first floor
Contact:
Jennifer Keeble
Executive Director, Phantoms Charities
jkeeble@phantomscharities.org
---